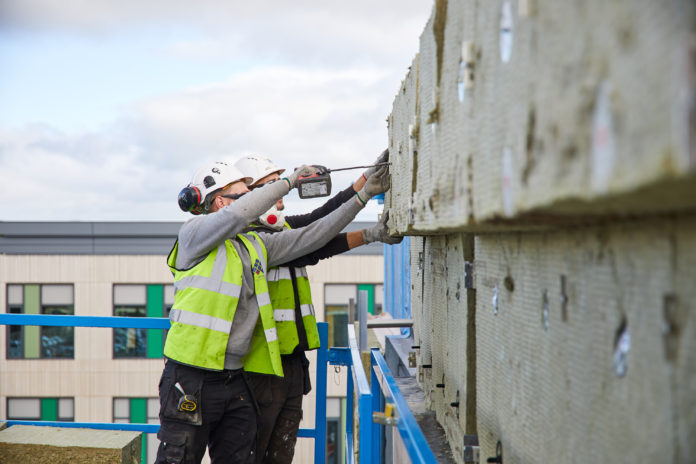 While the primary purpose of fire protection measures is to safeguard life, there are wider implications too. As a building's fire performance comes under greater scrutiny from financial service providers, Paul Barrett, head of product management at ROCKWOOL, explores what this means for contractors and how to mitigate risk.
Following the Grenfell Tower fire and the subsequent changes to building regulations banning the use of combustible materials on relevant buildings over 18m, a building's fire performance has been investigated by financial service providers.
Public indemnity (PI) and building insurance providers, as well as mortgage lenders, have tightened up their policies and coverage, with some removing cladding cover altogether, financially endangering firms. Likewise, premiums have increased by more than 100% [1] in some instances, putting further monetary pressure on contractors.
While initially, this focus was on businesses working on tall residential buildings with ACM panels, over time the scope has broadened, with stipulations now also being placed on buildings with cladding of all sizes.
In the mortgage market, EWS1 documentation (an assessment of external fire risk in buildings above 18m used to value a property as part of the mortgage and re-mortgage process) is not mandatory but is increasingly needed by many mortgage lenders.
Providers are also requiring EWS1's for an ever-expanding scope of buildings, so much so that the government intervened in late 2020 [2] and its scope is subject to an ongoing consultation by the Royal Institution of Chartered Surveyors to provide "valuers with clear criteria to help them decide on whether an EWS1 form may be required or not" [3].
Regulatory guidance, and the extent of exclusions and stipulations from financial service providers, continue to evolve and develop. However, requirements around fire performance seem to only become more stringent.
In its 'Independent Review on Building Regulations and Fire Safety', the Association of British Insurers, said: "The review should make recommendations that ensure the use of combustible materials is not permitted, especially in key vulnerable parts of buildings, and that testing regimes require and must find proof of non-combustibility." [4]
Therefore, contractors should heed best practice advice by specifying and installing non-combustible insulation materials, and not just on relevant buildings above 18m.
Increased protection
The drivers behind insulation choice are often thermal and acoustic performance. Stone wool provides both, with the added benefit of non-combustibility.
Non-combustible materials do not contribute to the spread of fire, nor emit significant toxic smoke and gases – giving significant protection to those inside. Furthermore, materials such as stone wool can withstand temperatures more than 1,000°C, potentially helping to maintain the integrity of the building fabric.
A simple and straightforward way to determine the combustibility of a building product is by confirming its Euroclass reaction-to-fire rating. A non-combustible material is defined by a Euroclass rating of A1 or A2-s1, d0 [5].
While contractors should be opting for non-combustible materials in the external walls of all buildings, irrespective of height, it's also crucial to remember the roof. When fire spreads to the roof, there is significant risk of the building collapsing. Even where collapse is avoided, a fire in the roof usually leads to significant financial costs.
Why it pays to remember the roof
While flat roofs have long been used to house plant equipment and machinery, they are also now frequently designed to create green and blue roofs, harvest energy through PV arrays and provide garden terraces amongst other uses. These can introduce fire risks – such as from electrical failure, or hot works maintenance – in addition to the increased risk of arson arising from the accessibility of a flat roof.
However, when correctly protected, a flat roof can also be a means of escape in a fire and safe place of refuge.
As is the case with the rest of the building envelope, the use of non-combustible insulation in flat roof design should be best practice. However, when selecting materials, contractors should be aware of confusion in the market regarding testing, standards and legislation for fire performance.
Approved Document B (ADB) references Test 4 of DD CEN/TS 1187:2012, which denotes that the highest classification for the performance of a roof when exposed to external fire is BROOF(t4). However, BROOF(t4) does not determine the reaction-to-fire performance of individual components and is therefore not an assessment of the combustibility of the roof system, or any of its constituent materials.
In determining combustibility, contractors should instead refer to Euroclass reaction-to-fire ratings of the individual components – particularly in situations where ADB specifies that the substrate (insulation) must be non-combustible where a roof system passes over a compartment wall.
As financial service providers continue to evolve their policies and procedures, it pays for contractors to be proactive in their approach using non-combustible insulation materials throughout the building fabric. As well as serving to futureproof buildings and specifications against a changing regulatory landscape, contractors can also be assured they are providing a safer environment for building occupants.