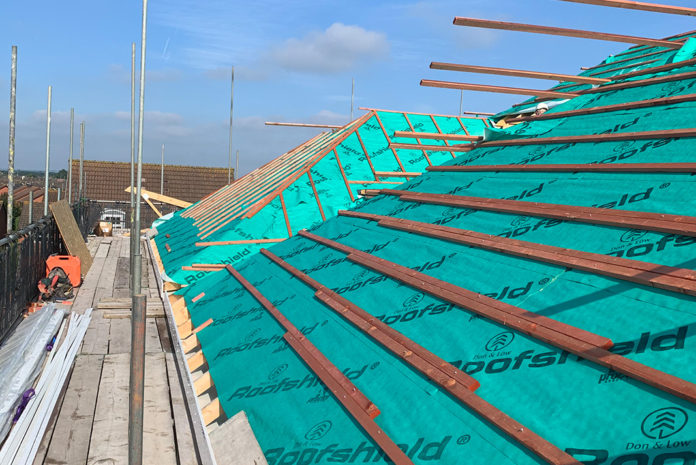 For decades, Roofshield has been providing roofing contractors with the highest quality, pitched roof underlay, which is both air and vapour permeable. Iain Fairnington, technical director at A.Proctor Group, explains how the product has been embraced by the construction industry since its inception in 1996.
For years the construction industry has been blighted by phrases of "it will never work", "my grandfather never used it", "we can't do that" and "I don't know what that is."
Pre COVID, we had the luxury of making decisions and changes when we wanted to, at our own pace. However, what recent events have shown us is that as an industry, we are able to evolve quickly, and we are resilient solution providers who can rise to the challenges that are put before us. We don't have to endure slow acceptance and we can embrace new technologies rapidly.
Nearly 25 years ago, I spoke to the owner of a timber frame manufacturing company who enquired about a roofing underlay he could use on his roof without ventilation. He had just endured a bad winter and the pipes in his house were freezing, due to ventilation inlets blowing cold air onto the pipes.
At A.Proctor Group we assured the customer that a solution was coming. At the time in 1995, we were developing a new generation "breather membrane" for pitched roofs. However, the development of the product wasn't easy, as the membrane had a number of functions to meet, in addition to not just taking wind loads and providing secondary water protection that traditional underlays and bitumen felt, did. The underlay needed to be:
Highly vapour permeable (some arguably refer to it as breathable)

Highly water repellent – for temporary protection until the outer covering is installed

No tenting effect – this was a first-generation breathers' issue, that when wet and touched on the underside, it allowed water to penetrate

Strong – at the time 100g non-woven was deemed acceptable for walls and 150g for roofs

Must be installed as 1F felt was 1m wide and with clout nails (some developed 1.5m and staple hammers!)

Needed to be air permeable, as well as vapour permeable (all roofing underlays were airtight, which did not allow the air movement in the UK cold roof)

No VCL at celling level. The NHBC didn't like the increasing problems of ceilings collapsing due to moisture gathering in ceilings.
Roofshield is created
In 1996, Roofshield was launched and received its first BBA certificate for warm roofs with no ventilation. This demonstrated its fitness for purpose as a robust membrane, which was tested and certified by the leading certification company in the country.
Roofshield was widely accepted for warm roofs with many manufacturers starting to recommend it due to its resistance to the "tent effect", which first generation underlays suffered from. But what next for the underlay that historical buildings were using to avoid unsightly ventilation products? Could it be used in cold roofs without ventilation?
Some sceptics said it was not possible, and it would be a backward step from the eaves ventilation (designed as it was the width of two fingers when deciding dimension, rather than years of research), which has mitigated the condensation issue since the start of insulating at ceiling level.
One of the things you never hear successful people say is "we can't do that", and luckily for the industry, A.Proctor Group wasn't going to say that.
Pushing boundaries 
A project which utilised Roofshield without ventilation, pushed the technology and theory behind it, as it was a nursing home with high temperatures and humidity.
The building had no VCL at ceiling level, en-suite bedrooms directly below, as well as sarking boards. Roofshield passed with flying colours and was tested and monitored by BRE and Caledonian University for over 18 months.
It was even revisited seven years later as sceptics believed it would clog with dust, but it showed there had been "no evidence of condensation and the moisture contents were the same as expected in a traditionally ventilated roof." This led to the successful BBA certification of Roofshield in cold roofs with no ventilation in 1999.
Much controversy followed between the ventilation and no ventilation camp, which led in September 2001 to the industry agreeing to the PII research by BRE and Caledonian University – Partners in Innovation Project Improved Thermal and moisture Performance of Pitched Roofs.
This showed many interesting outcomes, but also showed for the first time how a vapour and air permeable membrane (now called APLR underlay) differed in performance to that of a purely vapour permeable underlay. 
Before this, it was assumed that all vapour permeable membranes were the same, and therefore the acceptance of Roofshield was restricted due to problems with some vapour permeable underlays suffering from condensation, especially in the drying out stage.
It was becoming clear that Roofshield was different due to its air permeability, which added extra condensation reducing qualities. This led to the BBA explaining the air permeability as "allowing a significant additional mechanism for water vapour egress by convection."
Since that date, roofers throughout the UK have recognised the benefits of Roofshield, and it has been the ultimate "firm specification" when choosing an underlay.
In 2011, the NHBC confirmed that it accepted Roofshield with no other ventilation due to its air permeable properties, whilst requesting at least ridge ventilation with other vapour permeable underlays that were airtight.
This brings A.Proctor Group to the present day, where the full benefits of Roofshield including no vents and no VCL has been embraced by the wider industry for both newbuild and refurbishment projects. Many national housebuilders specify its use due to reduced call backs and a fail-safe solution.
Recently BS 5250 was put out for public comment, which recognised for the first time, the non-ventilated cold pitched roof option.
So, given the acceptance of this long-standing solution, what is next? Did someone say airtightness delivered by the external vapour permeable airtight membrane?
Remember, successful companies never say, "we can't do that" nor do they say: "I don't know what that is". Instead, they realise that ignorance does not make the issue go away, and instead they find a solution.