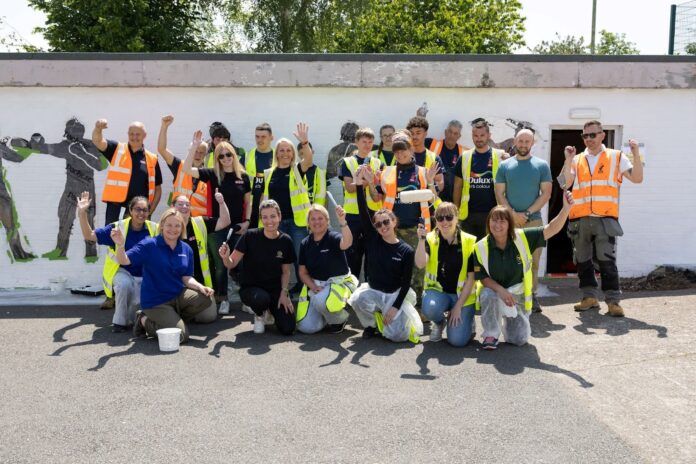 Toolstation has joined forces with sister company Travis Perkins to repair and refurbish a century-old Rugby youth club.
The builders' merchants supported social enterprise Volunteer It Yourself (VIY) to help young disengaged young people learn DIY and vocational skills.
The partnership has helped transform The Bradby Club in Rugby, through vibrant artwork in partnership with female midlands illustrator duo, Pickle Illustration.
Together, they have transformed the entrance through mural artwork and freshened up the appearance the interior spaces.
The Bradby Club works with young people and in the Rugby area and offers open access and specialist services, a range of daily physical activity sessions and learning and residential experiences.
The initiative is helping more young people learn DIY skills and to consider a career in the construction and building industry, whilst renovating a space they use and benefit from.
Toolstation is funding and helping the volunteers gain City & Guilds qualifications as part of its partnership with VIY.
The project saw over 17 young volunteers between the ages of 14-20 pledge up to five days work on the project, with all participants being awarded a City & Guilds accreditation in Painting & Decorating.
Fifteen colleagues from across the Travis Perkins Group also including Keyline, CCF and BSS also volunteered to help redecorate the club.
Colleagues from the LEAP Apprenticeships & Early Careers team also delivered a careers and employability talk to some of the young volunteers, sharing insight on routes and opportunities into the industry following their VIY experience.
John Robertson, club leader at Bradby Youth Club said: "People walking past didn't know what we offered before.
"Now if you look at the club, inside, outside, everywhere, it's brighter and more inviting. People are going to know what we do from the new murals and signage.
"I anticipate a lot more young people walking past will be intrigued, want to come in and then participate in the sessions and sports activities we run in this new, modern, welcoming space."
Toolstation and Travis Perkins plan on supporting a number of other VIY projects throughout the year and has set a target to help over 100 young people gain qualifications and consider a career in the trades.