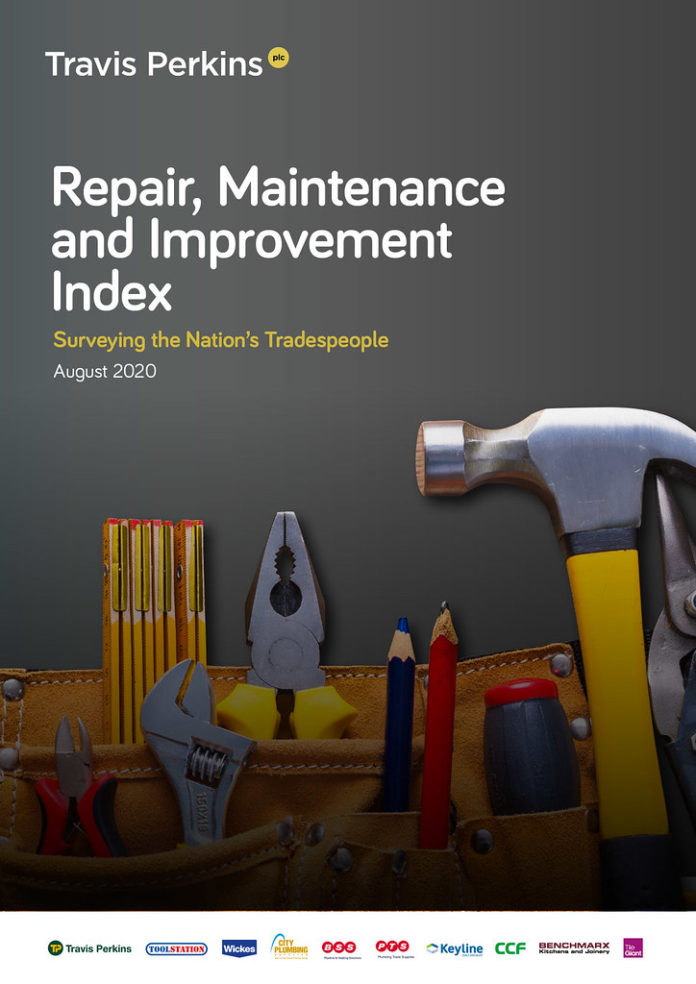 A survey of over 1,300 tradespeople across the country by Travis Perkins has revealed that most remain optimistic for near-term workloads, despite the economic uncertainty caused by the COVID-19 pandemic.
Half of the respondents, who include the nation's builders, roofers, electricians, plumbers, joiners and other tradespeople, believe that their workloads will increase, and that they will need to purchase new materials over the next two months, according to the Travis Perkins survey.
The first publication of the 'Repair, Maintenance and Improvement Index' has revealed that the current confidence index score of upcoming workload is 52, higher than it was in the aftermath of the Brexit referendum in June 2016 (45), and significantly higher than at the start of the global financial crisis in September 2008 when it slumped to -7.
The poll of over 1,300 tradespeople highlights that UK tradespeople believe that the overwhelming majority of their work (72%) will come from domestic repairs and maintenance, compared to 16% from newbuild housing, 15% from commercial and industrial activity, 15% from public sector work, and only 2% think work will come from infrastructure projects.
When asked about Brexit, over a third of respondents (35%) believe that a "no deal" outcome to negotiations will have no impact on their business, and almost all (97%) of all respondents are taking no measures to prepare for such an outcome.
Domestic Repair, Maintenance and Improvement (RMI) work completed by trades in 2019 was valued at £29 billion by the Office for National Statistics.
Commenting on the results of the survey, Nick Roberts, chief executive of Travis Perkins plc, said: "I am reassured to see the nation's tradespeople are feeling upbeat about the outlook for their businesses over the next two months. Despite the economic challenges posed by the ongoing pandemic, the majority of tradespeople told us that they are, on the whole, looking towards increased workloads, greater requirements for materials and a resurgent domestic repair and improvement market. The government may be looking to 'build, build, build' to support the UK's recovery, but so it seems are thousands of UK homeowners.
"While no one is suggesting that the current economic headwinds are insignificant, it is notable that respondents' confidence in expected workloads for the next two months compares favourably to the historic data we collected in the immediate aftermath of the collapse of Lehman Brothers in 2008 and the weeks following the Brexit referendum result in 2016."
Nick continued: "The nation's army of tradespeople already significantly contribute to our economy, but we are also acutely aware of the hugely important role they have played in supporting their communities during the pandemic. Their confidence in the near-term outlook and resilience in the face of such challenging market conditions is something that should give us all cause for optimism at this time."
You can read the full results from the Repair, Maintenance and Improvement Index here.