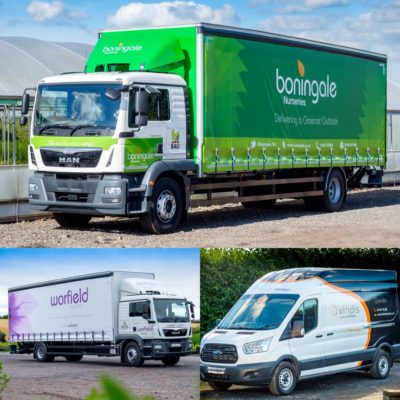 Boningale has recently expanded its fleet of vehicles to facilitate growth plans for its expanding portfolio of commercial products and services.
These include Boningale GreenSky, the company's green roof division and Worfield Plants who specialise in growing quality alpines and herbaceous perennial plants. The plans also involve VIRIDIS, a brand new business that has recently been created to offer landscape designers a bespoke and professional plant sourcing service.
The three new vehicles include two 18 tonne delivery trucks that will be used predominantly by Boningale Nurseries, GreenSky and Worfield Plants, and a smaller Ford Transit L3 350 for VIRIDIS's premium plant delivery service.
Frank Sandford, sales and marketing director at Boningale, commented: "Transport is a key part of our operation and it's essential we have our own dedicated fleet of modern vehicles. This ensures we as a company have complete control in making sure all our plants arrive on time and in perfect condition.
"This recent investment is essential for our growth plans and means we now have a diverse selection of vehicles in the fleet that can be used across the Group to meet our customers' differing delivery requirements."