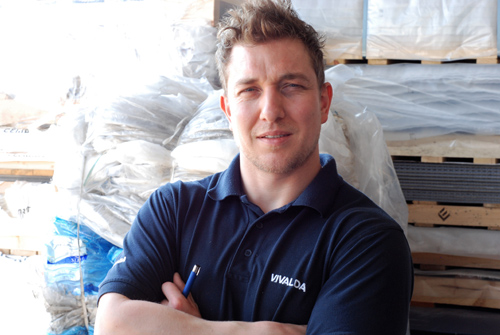 Vivalda, distributor of architectural cladding, has demonstrated the value that recycling can bring to manufacturers following a year-long pilot scheme at its Hull facility. Having embraced a new environmental policy in 2017, the business's north-east operation has reportedly reduced its annual waste bills by more than £10,000 or 75%.
Concerned about the increasing cost of landfill charges and the volume of waste it was producing, the business was keen to explore ways it could divert its four main waste streams – plastic, panel board, insulation and metal – away from landfill.
Liam Pickup is said to be the driving force behind the initiative, which has completely changed the way Vivalda's Hull site manages its waste.
Liam explained: "Until January 2017, we simply threw all of our plastic wrapping, off-cuts of cladding and insulation into skips. It was a huge waste that was costing us around £1,400 per month in collection and landfill charges. And those costs were going to getting bigger, not smaller."
Having installed a bailing machine, Vivalda Hull now has its plastic waste collected and recycled free-of-charge. Similarly, off-cuts of insulation panels are now delivered to local building firms, who can use it as additional material for projects. Panel board off-cuts, which are generally made from glass reinforced concrete can be used as a valuable resource. Finally, Vivalda has installed an aluminium extraction unit, that turns waste metal into a valuable commodity that goes back into the manufacturing lifecycle.
Liam Pickup, continued: "We have had a lot of support and interest from the staff as well as local companies that are interested in using the materials that we previously threw away. In terms of capital cost, the only kit we've needed to acquire is the plastic bailer and the aluminium extractor."
Vivalda is now looking to roll out a green policy across all of its eight UK facilities, hoping to reach out to local partners in the same way that has proved so successful in the North East.
Liam concluded: "It's been amazing what we've been able to achieve with just a little bit of planning and investment. To really make recycling work, we've realised that it's about good communication and educating both staff, suppliers and local businesses about the potential value that is hidden within waste materials."