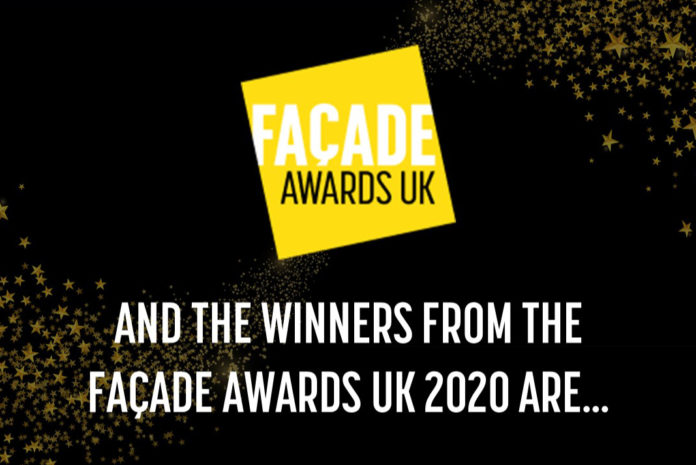 The winners of the Façade Awards UK 2020, which are presented by RCI magazine have been revealed at a virtual ceremony on Thursday 11 February, and what an event it was!
With lockdown restrictions on large public gatherings in place and live events and award ceremonies unable to go ahead as planned, the RCI team prevailed and adapted to the government restrictions imposed by the pandemic, by successfully streaming the Façade Awards UK 2020 online for attendees to watch in the comfort of their home or workplace.
The Façade Awards UK were created to showcase the successful partnerships between manufacturers, suppliers and contractors, and the commitment to quality by the delivery teams who carry out the work on the projects involved.
Eleven champions and one highly commended were crowned at the ceremony, and the projects involved were recognised for their product and build quality, professionalism, and the finest workmanship.
The entries were judged by a panel of independent industry experts, who had a tough task of pouring over the submissions, remotely – of course, to decide which entries had that extra special something and was worthy of an award.
Commenting on the awards, Nichola Farrugia, editor of RCI, said: "The Façade Awards 2020 has proved to be a great success, despite all the difficulties imposed by the pandemic. As a team, we've had to rapidly adapt to the situation handed to us, and we are so grateful the ceremony pulled through.
"The finalists and winners reflect the growing resilience, diversity and skills of the façade sector, which through the submissions we received, have demonstrated some truly awe-inspiring designs. Congratulations to every finalist and winner – you and your teams have demonstrated excellence to reach this stage, and while not everyone was able to win a trophy, you should all be proud of your achievements. Thank you for sharing your projects with us."
The 2020 winners were:
Best new build project
Winner:

Parklex and Vivalda with Reid Roof: Hilltop Primary School, Airdrie

 
Best refurbishment project
Winner:

Proteus Facades with Chemplas: Spanish City, Whitley Bay

Highly commended:

Rockpanel and BBS Facades with Ashe Construction: Belswains School, Hertfordshire
Best use of a brick slip cladding system
Winner:

Taylor Maxwell with A2O Cladding: York House, Windsor
Best use of a composite panel system
Winner:

Eurobond (Euroclad Group) / Longworth Building Services: Marks & Spencer, Rochdale Riverside
Best use of a curtain walling system
Winner:

Cantifix with GF Holding: The Odeon Leicester Square, London
Best use of rainscreen system using aluminium
Winner:

Sotech Optima with Façade & Glazing: Leeds Beckett University CTAR
Best use of a rainscreen system using stainless steel
Winner:

Proteus Facades with Deane Roofing & Cladding: Northampton International Academy
Best use of fibre cement cladding panels
Winner:

Valcan, Alucobond and Vivalda with Middlesex Facades: Vyners School, Uxbridge
Best use of rainscreen using specialist metal
Winner:

Proteus Facades with Cladanco: Mulberry Park Community Hub, Bath
RCI Project of the Year
Winner:

Proteus Facades with Chemplas: Spanish City, Whitley Bay
Outstanding contribution of the Year

Winner: Jonathan Evans, chairman and chief executive officer of Ash & Lacy.
You can view the winners brochure here.
Submissions for 2021 awards… watch this space!
We'll be opening the 2021 Façade Awards UK soon for entries, so do keep an eye out on the awards website for further updates as they are announced.
We look forward to hearing what your company or team has accomplished over the course of this challenging year, so start thinking about your nomination now!
To watch a replay of the ceremony, click here.