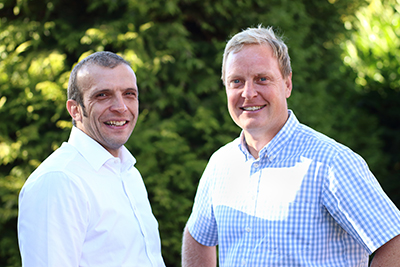 External wall insulation and rendering solutions supplier SPSenvirowall is continuing its expansion across the UK with two key appointments.
Jon Walton joins the group as business development manager, based at its Leeds branch, and Mark Collings from Bristol joins SPSenvirowall as its new regional sales manager.
Jon and Mark will be responsible for increasing sales across the Midlands and North of England and the South West, respectively.
Jon Walton has worked in business development in the construction industry for 11 years and joins the group from a leading steel framing business. Mark has spent the last five years at one of the UK's leading mortar and grout companies.
Paul Winwood, managing director at SPSenvirowall, said: "Jon and Mark bring with them an extensive contact list and many valuable years of experience in the sector. They both understand the drivers of this market and I'm confident they will build on the strong foundations we already have in the North, Midlands and the South West where there are plenty of opportunities for growth.
"The external wall market is a particularly vibrant element of construction at the moment and our team works hard to provide the strongest service to the industry. We work with architects to ensure they have the right scope, as well as contractors and installers to ensure they have the right systems for the job. It's important that the correct product or system is chosen early on in the process to get the desired look and function from a building. We take that very seriously."
SPS Envirowall has a network of local depots across the UK offering a range of environmentally-friendly external wall insulations and rendering solutions, as well as expert advice, guidance and training to contractors and architects.