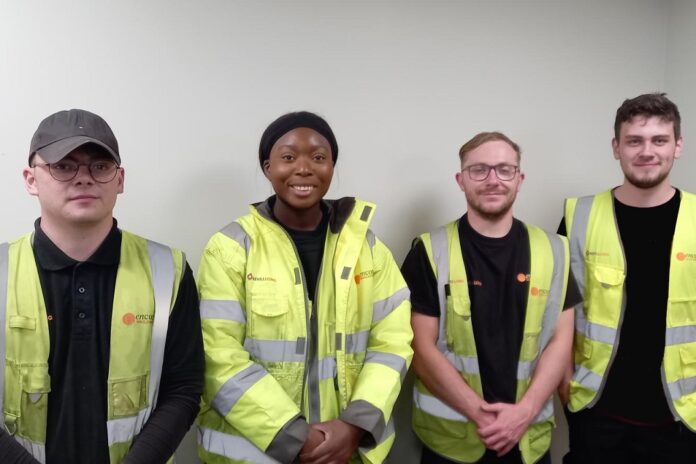 Encon & Nevill Long has welcomed four new apprentices to its Fareham branch as part of its ongoing commitment to training and development of new and existing teams.
Three apprentices – Dan Thompson, Josh Street and James Osborne – joined the 'Warehouse to Wheels' programme, which focuses on training and upskilling Warehouse Operatives to fully licenced HGV Drivers. Rebecca Afonso embarked on the Sales Office Apprenticeship.
Dan completed his apprenticeship in July and subsequently Fareham branch director Jason Eastland has offered him a full-time, permanent position. Full-time roles will also be offered to Josh, James and Rebecca on successful completion of their respective apprenticeships.
Jason commented: "Apprenticeships are a rewarding route for employers and individuals so it's important to invest the time. Currently 20% of the Fareham workforce are apprentices, which represents the commitment of the business and the branch to the future development of our teams.
"The 'Warehouse to Wheels' programme has consistently been a successful initiative for existing team members and for new apprentices. It provides a rounded understanding of distribution and the opportunity to upskill and develop your role.
"The training also ensures a more progressive and knowledgeable Operations Team at the branch. It's a great way of building and encouraging a trained workforce at a time where the industry is challenged by a growing skills shortage.
"The Sales Office Apprenticeship offers a Level 2 qualification in Customer Service. Apprentices learn about best practice in customer relations, they gain skills in communications and how to influence sales, and they build knowledge of the business, the products we supply and the services we offer."
Deborah Gore, HR HSEQ director for The Encon Group, said: "Encon is proud to have a talented, loyal workforce. We care about our people and continue to strive to be the Employer of Choice. This includes offering opportunities to younger people entering the world of distribution and continuing to build on our diverse workforce."
>>Read more about Encon & Nevill Long here.