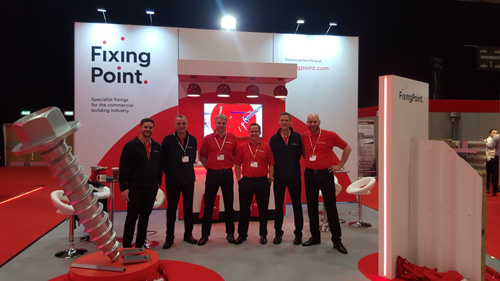 Fixing Point, a supplier of fixings to the roofing, walling and cladding industry, is celebrating the new year with a series of staff appointments.
The Cheltenham-based firm says it has recently undergone an extensive rebrand and will move to new headquarters in Gloucester later in 2018.
The appointments have reportedly been made to strengthen the Fixing Point team in meeting the demands of an increasingly growing client base.
Fixing Point sales manager Jason Wood has been promoted to contracts director and will be responsible for business development and key account management.
The firm has bolstered its sales and marketing team with the appointments of Matt Vallis as sales and marketing manager and Andrew Jefferies and Joshua Grigg as internal sales executives.
Fixing Point has also appointed two new business development managers: Martin McDougall for Scotland and the North East of England and Ian Pyatt for the Midlands and North West.
Ian Hill, managing director, said: "We pride ourselves not only on the quality of our products but also on the professionalism of our team.
"Every member of staff at Fixing Point is trained to provide a fast, efficient, knowledgeable and most of all, friendly service.
"Jason Wood has been instrumental in winning vital new business for us over the last seven years and his promotion to contracts director is a recognition of his achievements.
"Matt Vallis brings years of management experience within sales and marketing to Fixing Point and we know he will excel in this crucial role.
"In fact, all of the appointments to our sales and marketing and business development teams demonstrate the scale of our ambition as we seek to become one of the leading brands in the marketplace."