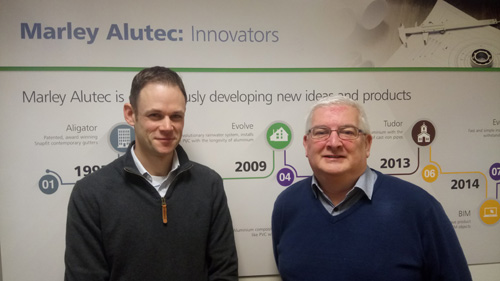 Marley Alutec has appointed Phil Whomes and Tom Elwell to work at its Bedford headquarters.
As part of its increased focus on growth, Phil has been appointed as commercial manager, and brings with him more than 25 years' sales and marketing experience to the role. He will oversee the company's internal sales, marketing and estimating departments.
Commenting on his new role, Phil said: "I'm looking forward to applying my experience to the role to help improve our service to specifiers, contractors and merchants."
As the most recent addition to the Marley Alutec estimating department, Tom brings 10 years of experience as technical advisor at Celotex Insulation, where he gained an in-depth understanding of building types and methods, as well as specification calculations.
Tom will be responsible for producing pricing estimates on incoming customer enquiries, assessing architectural drawings to define the products required and performing rainwater drainage calculations to understand the suitability of gutters and pipes.
Speaking about his appointment, Tom said "What attracted me to Marley Alutec was the opportunity to work within the construction products industry in a technical role. After meeting the company's technical manager, Brian Bell, and visiting the headquarters, I knew Marley Alutec would be a great place to work and I'm excited by the challenge."