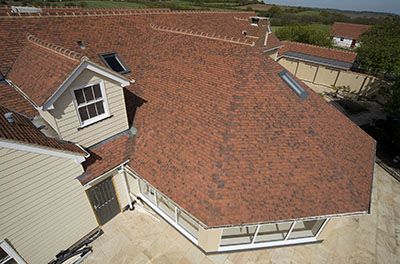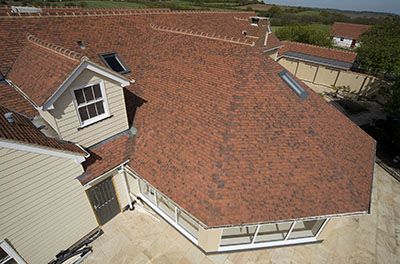 Marley Eternit's Ashdowne handcrafted clay plain tiles have been used to help transform a derelict 17th century pub into a new fine dining restaurant and village centre.
The £3m restoration project by David Bishop has seen the Wheatsheaf pub in Rettendon brought back to life as an exciting new complex which, in addition to Le Benaix Bar and Brasserie, includes a village store, hairdresser and separate beauty salon.
The former Wheatsheaf pub in the Essex village of Rettendon is a building of significant historical importance but had remained derelict for almost ten years. The challenge was to restore and extend the ageing building, retaining the existing features.
Owner David Bishop selected the handcrafted Ashdowne clay plain tiles from Marley Eternit to replicate the aesthetic of the clay peg tiles used on the original roof. 38,000 tiles were used to create the beautiful clay roof, creating a heritage appearance that connects both the old and the new parts of the building. The roof includes a large octagonal-shaped section to create a striking design feature.
Ashdowne handcrafted clay plain tiles are available in two weathered colours with a traditional handcrafted finish that ensures each and every roof takes on a character of its own.
Ashdowne clay tiles also offer impressive environmental credentials, including the ability to achieve an A+ rating in the BRE Green Guide to Specification, BES 6001 Responsible Sourcing accreditation and certified carbon footprint data at product level.
www.marleyeternit.co.uk/Roofing/Clay-Tiles/Ashdowne-Clay-Tile