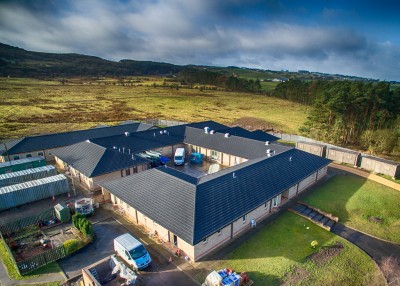 A range of Icopal's Decra products and accompanying accessories have been specified for the refurbishment of the Lowland Reserves Training Centre on Gilbertfield Road, South Lanarkshire.
The works were carried out in three phases, with Monarperm 700 breather membrane and Decra Stratos lightweight tile and accessories such as D ridges, barges, counter battens, tile battens and lead valleys specified for each of these by Neil Farquhar from Lowland Reserves Forces.
The Monarperm 700 breather membrane is a vapour control layer that was chosen for its strength and durability with a high head of water for use in all standard applications.
The blue and grey coloured breathable roofing underlay is made from polypropylene spun bonded material with a dark grey microporous film for added UV and ageing stability.
For the top layer, the Decra Stratos lightweight tile provided an economic and attractive finish thanks to the choice of two colours comprising of coated, zinc aluminium galvanised steel tile panels with the appearance of slates or concrete roof tiles.
The economic feature is due to the tiles being produced in large format, enabling faster installation with fewer fixings compared to the traditional tile or slate roofing; the decreased time needed for fixing tiles therefore results in labour cost savings. Decra Stratos is also completely dry fixed throughout, providing maximum storm security.
The project was completed in 2014 and won HCS Roofing the title of 'Decra Roofing Winner' at Icopal's IMA Awards for this year's AGM.