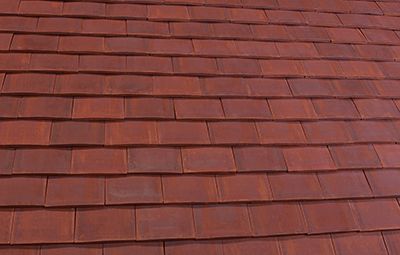 Marley Eternit has further enhanced its Acme Double Camber clay plain tile range with the launch of a rich new colour option – Acme Purple Blend.
The addition of the Purple Blend option extends the colour palette choice to six with a wide selection of traditional fittings and accessories for complete design flexibility. As well as the deep colour, the distinctive double curve of the Acme tile gives designers the opportunity to create highly textured roofscapes with accentuated light and shade.
Sarah Jackson, marketing product manager from Marley Eternit, commented: "The purple and blue hues in the new Purple Blend tile contrast with the rich red base to give a unique colour, which will mellow and age beautifully on the roof. The colour emulates the traditional variation within the kiln where multi-coloured tiles are produced by varying the burning process and the kiln atmosphere to create the rich purple hues, which are extremely popular in the Midlands and the North.
"The launch of the Purple Blend tile follows the recent availability of another new colour option Natural Orange, which is already proving a favourite with specifiers and house-builders alike. We anticipate that the Purple Blend tile will be just as successful."
The company says that double camber tiles add a subtle texture to the roof and can assist both architects and house-builders who are striving to create a more rustic aesthetic on new properties, or who want to match in with existing tiles on extensions or refurbishment projects. The colour variations also make Marley Eternit's Double Camber range suitable for creative roof detailing such as vertical tiling.
The Acme Double Camber clay plain tile range is now available in a total of six colours: Purple Blend, Antique, Burnt Flame, Dark Brindle, Smooth Brindle and Natural Orange.
The Acme clay plain tile range also offers the ability to achieve an A+ rating in the BRE Green Guide to Specification, BES 6001 Responsible Sourcing accreditation and certified carbon footprint data at product level.
To order samples or download a brochure, visit www.marleyeternit.co.uk/clay