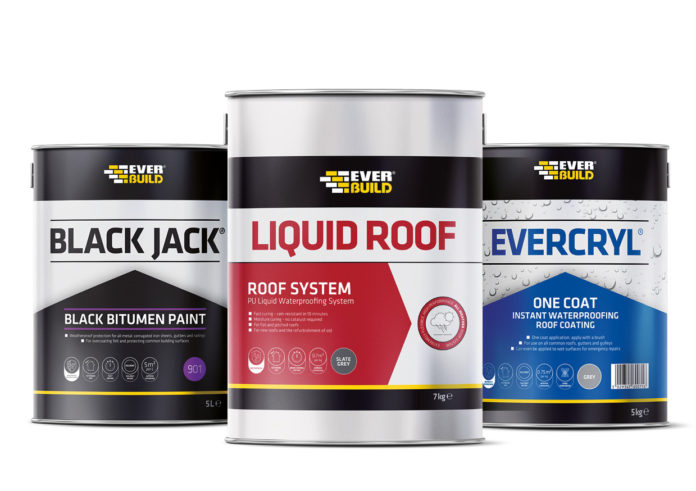 Everbuild, a Sika company, has updated its range of roofing products, to combine a fresh new look with the same tried and trusted formulation for reliable results every time.
The new packaging design has been introduced across several product lines, including the full Black Jack range of bitumen roofing coatings and flashing tapes. The new-look products will be rolled out throughout the year.
The company's roofing coatings and adhesives are suitable for a variety of different projects, highlighting its commitment to offering reliable, high quality solutions for every build.
One of the flagship products within the range is Everbuild Liquid Roof, which provides a waterproof finish for new roofs or when refurbishing existing structures and is rain-resistant in just 10 minutes.
Previously branded as Aquaseal Liquid Roof, the new-look, fast-curing polyurethane waterproofing liquid membrane is easy to use and is the ideal choice for flat and pitched roof projects and customers who are looking for an all-weather roofing system.
Another popular product in the range is Evercryl One Coat, which is an instantly waterproofing roof coating designed for sealing, maintaining, and repairing most commons roofs. As it can be used in both wet and dry conditions, it is the ideal 'go to' product for completing jobs in the cold and wet winter months.
The last product in the range, Evercryl Emergency Roof Repair, is also suitable for use in wet and even freezing conditions and provides a flexible membrane to instantly fix cracks and seal leaks on a variety of different roofing materials, as well as gutters, flashings and downpipes.
Commenting on the new rebrand, Emma Taylor, product manager at Everbuild, said: "Our trade customers can still rely on our products to be great to use and to give a high-quality finish, but by giving the full range a new look, we hope we have also made it easier for trade professionals to find what they need. The redesigned packaging is professional, easily recognisable, gives clear product information and looks great both on the shelf and in the back of the van."
www.everbuild.co.uk/roofing