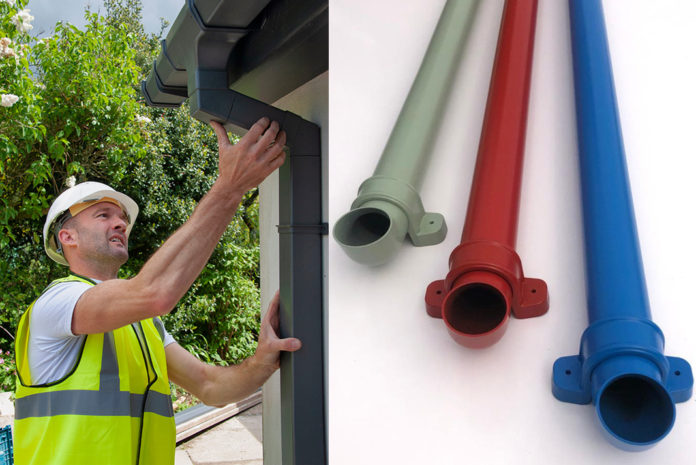 Championing the growing colour trend in the built environment, Hunter Plastics has revealed a new extended colour offering for its range of rainwater systems.
Designed to provide specifiers, developers, roofing contractors and self-builders with even more choice, enhanced flexibility and design freedom, Hunter Plastics has extended the colour offering of its rainwater systems to include over 150 RAL colours in a range of matt and textured finishes.
From post-box red and deep teal to bright pink and sunshine yellow, the new colours are available on the 112mm Half Round, Surefit 125 and 114mm Squareflo rainwater systems – all manufactured to meet British Standards.
The bespoke colour service is easy to access, with customers simply required to note the RAL reference of their desired colour, referring to the RAL colour book. Customers should include this when placing the order through their normal route.
Speaking about the decision to introduce the new colour offering, Rod McLachlan, rainwater category manager at Hunter Plastics, said: "While rainwater systems ultimately have a functional role to play, they have also recently become something of a design feature in their own right, used to enhance the characteristics and aesthetics of a property, or tie in with other coloured elements such as windows and doors.
"With all this in mind, we wanted to give our customers something that would enable them to explore more innovative and creative system designs and open up options for those looking to introduce more colour into their schemes.
"As one of the first in the market to provide such a solution, we are looking forward to seeing how specifiers, builders and roofing contractors alike will use it to embrace colour on their projects, whether it be for residential or commercial applications, newbuild developments or refurbishments."
Internationally recognised as global experts in fluid management solutions, Aliaxis UK has been providing its Hunter Plastics rainwater systems to the market for over 60 years.