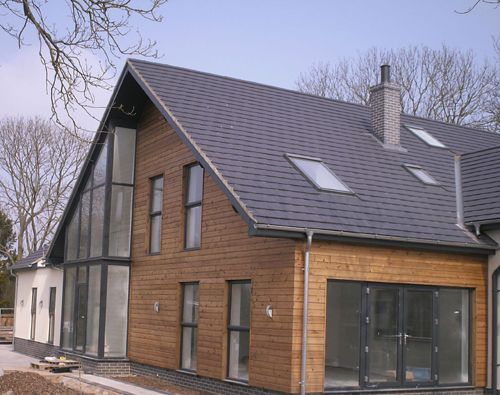 Freefoam has added to its extensive roofline range with Anthracite Grey woodgrain following the increasing popularity of grey window frames and colour composite doors.
The manufacturer says its six widths of fascia and eight widths of soffit, along with matching corners, joiners and trims in RAL 7016 equivalent, gives specifiers, property developers and installers a comprehensive product range with an attractive contemporary woodgrain finish.
Freefoam woodgrain products are manufactured using Exofol PVC film provided by Renolit. This robust exterior grade film consists of two layers: the woodgrain finish in the base film uses Solar Shield Technology to protect the cladding against excessive heat build-up while the upper transparent layer prevents against fading caused by UV radiation or other weathering effects. This technology allows Freefoam to offer a ten-year guarantee on all woodgrain cladding products.
Colin St John, UK general manager of Freefoam, said: "We introduced Anthracite Grey woodgrain window accessories last year recognising the demand from the glazing and window industry for this popular colour. Following feedback from the wider building industry we have now added Anthracite Grey roofline products, providing a comprehensive range allowing customers to capitalise on the growing trend for colour."
In addition to foiled products, Freefoam manufacture a range of co-extruded fascia, soffit and trims in ten colours using its patented Colormax technology. Featuring built in colourfastness, colour variety, and reliable colour matching, the company says the range offers choice to architects, specifiers, property developers and homeowners.
All products are listed in the Freefoam Trade Catalogue, which can be found here.