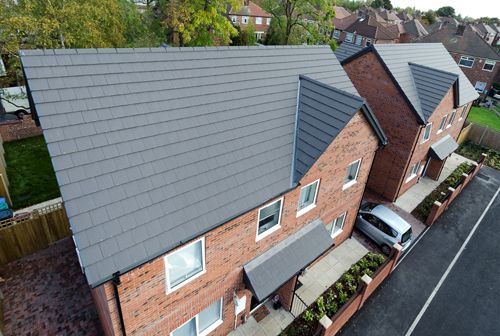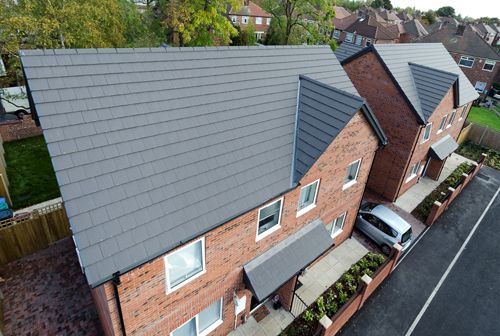 Marley Eternit's Riven Edgemere tiles have been specified for a new residential development in Manchester, demonstrating the continued high demand from housing associations seeking a natural slate aesthetic on a budget.
Arcon Housing Association selected the tiles for its new development of ten properties on the site of the former St George's Church in Gorton, in the south east of Manchester. The new two and three-bedroom homes, located on Abbey Hey Lane, Abbey Close and Union Street, are part of the housing association's rapidly expanding new build programme.
The association had previously used slate effect clay interlocking tiles but decided to switch to Riven Edgemere in Smooth Grey because they were more cost effective.
David Hutchinson, senior building surveyor at Arcon Housing Association, said: "We wanted to achieve a slate aesthetic to give a contemporary feel to the new homes but there was certainly no room in the budget for natural slate. The riven surface and thin leading edge of the Edgemere tiles offered us a cost effective close appearance to slate. They look very impressive on the finished houses and blend well with surrounding properties."
Charlotte Hughes, product manager from Marley Eternit, commented: "We have seen a significant increase in the number of housing associations using our Edgemere tiles because they want to achieve a slate look but are faced with growing budgetary pressures. We have also seen some movement away from slate effect clay interlocking tiles towards products like Edgemere, which still offer a high aesthetic but are often more cost effective.
"The Riven version is particularly popular because it has a textured slate like surface but is the same price as the rest of the Edgemere range and is a good option when planners require a closer match to the look of natural slate."
She added: "The environmental credentials of Edgemere interlocking tiles are another reason why they are in such high demand for social housing projects, with independent carbon certification, the ability to achieve an A+ rating in the BRE's Green Guide to Specification and certification to the BES 6001 standard for Responsible Sourcing."
Marley Eternit's Edgemere's large format concrete interlocking tiles come with a thin leading edge for a slate like appearance at a more attractive price. With only 9.7 tiles per square metre, Edgemere is a single lap solution that is quicker and easier to install than natural slate and 40% thinner than standard concrete interlocking tiles. With the ability to perform at pitches as low as 17.5°, Edgemere has the versatility to be used on a wide range of roof types and is now available in three variants, standard, riven and duo.