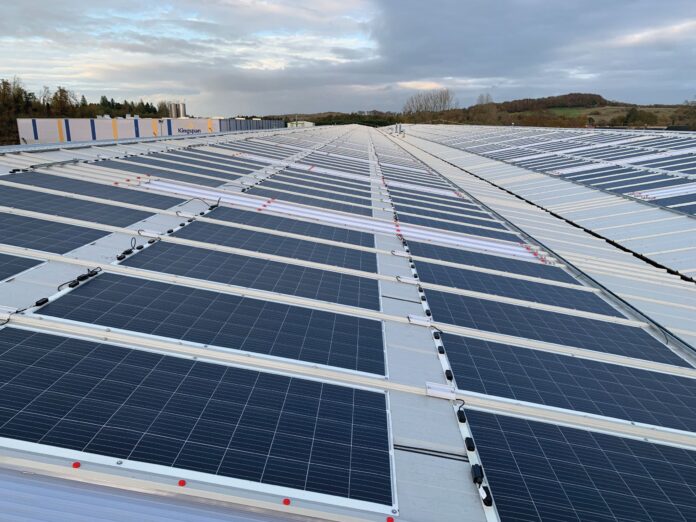 Kingspan PowerPanel is a new generation of PV roof solution, combining a high-performance QuadCore insulated panel with an efficient monocrystalline photovoltaic panel in a single, factory-engineered product which can greatly reduce installation time and complexity.
Kingspan PowerPanel has been developed to offer insulation and renewable energy generation in a single solution which is suitable for all kinds of pitched roofs (4° or more after deflection). The QuadCore insulated roof panel can offer U-values as low as 0.25 to 0.12 W/m2K, depending on specification, whilst the output of the solar PV module is 310 Wp. This not only helps to ensure an energy-efficient building but can help roofing contractors to ensure a high-quality PV installation without compromising on speed of build.
PowerPanel is also easily integrated with QuadCore Trapezoidal Roof Panel and Day-Lite Trapezoidal Rooflight for further energy reduction and project efficiency.
In conjunction with launching PowerPanel, Kingspan have created Rooftricity™, a funding option offering building owners the opportunity to maximise roof space to generate power for their own benefit, reducing energy costs and enhancing property value without any upfront capital outlay.
www.kingspan.com/gb/en-gb/products/insulated-panel-systems/insulated-roof-panels/powerpanel