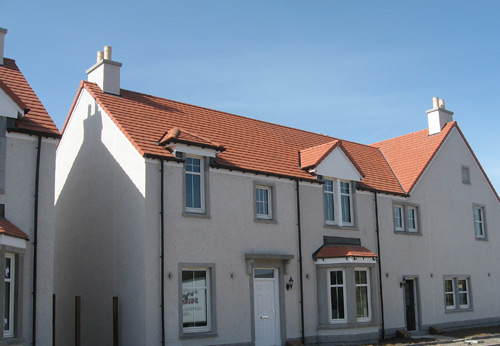 Marley Contract Services is celebrating success after winning in the Single-Lap Tiling & Slating category at the UK Roofing Awards 2015 for its work on a community housing development in Aberdeen.
The award was for the company's work with Scotia Homes, which appointed Marley Contract Services to carry out roof works on a series of town houses as part of its community style housing development in the suburb of Bridge of Don.
The project saw the regional team carry out intricate tiling on the roof areas to create aesthetic appeal to complement the different housing styles on the site and surrounding area. This included the roof valleys being cut near and straight as well as cutting the ridge hips neatly at the mitred junction.
The builder specified a red clay tile on the main roof area, while small plain tiles were used around the bay windows to provide a contrasting affect. Hips were installed using a dry system on the main roof sections with close mitred hips on Bay Windows.
Due to the number of other contractors operating across the site, timescales for the roofing project were extremely tight, requiring Marley Contract Services to work closely with other on-site teams to meet strict deadlines. In addition to time constraints, the team had to operate with maximum efficiency to keep the building watertight, while also adhering to stringent health and safety regulations.
The company says the knowledge and expertise of its team, which included a second year apprentice, saw the successful completion of the project, on time, and to the great satisfaction of Scotia Homes.
Billy Baird, managing director at Marley Contract Services, said: "High quality workmanship is at the heart of Marley Contract Service's operation, so we're delighted to be recognised for this within a national award scheme. The Scotia Homes development is a perfect example of the high level of expertise and skills deployed by the team to deliver a project on time and to the highest of standards, no matter how intricate the design details."