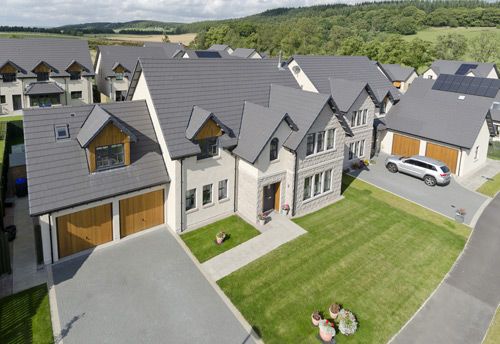 A housing development by AJC Homes Scotland in one of the most exposed parts of the UK has used Edgemere slate effect interlocking tiles and a full dry fix system from Marley Eternit to meet the demands of extreme weather and planning requirements.
Situated in the village of Aboyne in Aberdeenshire, planners required the Castle Park development of 26 family homes to have a slate aesthetic for the roofs. With the village on the edge of the Highlands, AJC Homes decided to specify a full dry fix system from Marley Eternit after advice from the manufacturer's technical team to suit the extreme weather of the location.
Neil Paterson, director at AJC Homes Scotland, said: "Castle Park is a luxurious development built with materials such as granite and cedar to give the houses a natural appearance, blending in with the surrounding countryside. Planning dictated that the roofs must have a slate aesthetic but we chose to use the Edgemere interlocking tiles to give the sleek slate look in a more cost effective way and the planners were very happy with the samples Marley Eternit provided.
"Aboyne always seems to be the coldest place in the UK in the winter and the hottest in the summer, so we had to be mindful of these extremities when specifying the roof covering and fixings. Marley Eternit's technical team advised on fixings specifications and we used a full dry fix system to give maximum durability."
The Edgemere tiles were fitted by Marley Contract Services and C Hurl Roofing on all of the three, four and five bedroom homes on the current phase of the ongoing Castle Park development, with the next phase about to start.
Charlotte Hughes, product manager at Marley Eternit, explained: "We are seeing significant demand for our Edgemere tiles on housing developments that want to deliver a high external finish but at a much more affordable price than natural slate. Achieving a premium roof appearance at a lower cost can help developers to maintain higher internal specifications, which can be a big selling point in a competitive market. Although it looks like slate, Edgemere is an interlocking tile so it also gives significant time saving benefits."
Marley Eternit's Edgemere large format concrete interlocking tiles come with a thin leading edge for a slate like appearance at a more attractive price. With only 9.7 tiles per square metre, Edgemere is a single lap solution that is quicker and easier to install than natural slate and 40% thinner than standard concrete interlocking tiles. With the ability to perform at pitches as low as 17.5°, Edgemere has the versatility to be used on a wide range of roof types and is now available in three variants, standard, riven and duo.