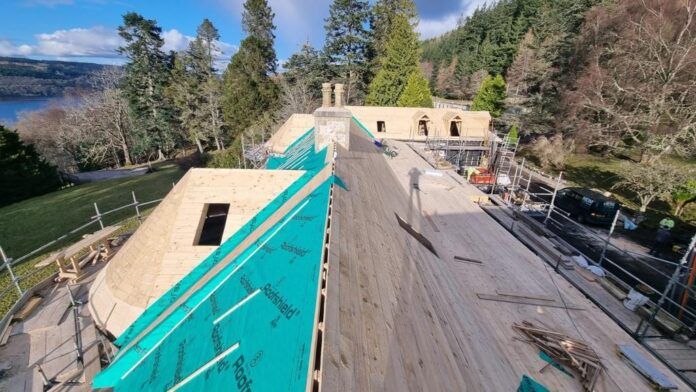 The world-renowned Roofshield membrane from the A. Proctor Group has been installed as part of a multi-year restoration project that aims to restore and preserve the historic legacy and heritage of the Boleskine House Estate, located on the shores of Loch Ness. The manor in the Scottish Highlands was once home to Led Zeppelin guitarist Jimmy Page.
In 2019, the Boleskine House Foundation SCIO took over ownership, intending to restore the estate as part of a multi-year project. The category B listed building will host community-centred educational and recreational events. The Boleskine House Foundation aims to educate the public on the heritage of the house and lands, to welcome the enjoyment of its structure and surrounding gardens, and to facilitate learning, growth and well-being Boleskine House Foundation contracted with specialist local builder HEIM Build Ltd from Ardersier to carry out the roofing works. As part of the restoration, HEIM Build Ltd used traditional carpentry skills and techniques and local highland timber.
The Roofshield roofing membrane has long been recognised as one of the highest performing roofing membrane solutions, providing a pitched roof underlay that is air and vapour permeable. The exceptional performance of Roofshield has been successfully incorporated in many of the most demanding locations worldwide. Its characteristics allow even very complex pitched roofs to breathe without the need for air gaps or secondary venting.
A unique performance characteristic of Roofshield is its patented SMS (Spunbond Meltblown Spunbond) structure, which allows high levels of airflow and the transport of moisture vapour, making the formation of condensation in the roof space virtually impossible. Numerous vapour permeable underlays use an airtight VP film layer to achieve their performance. However, the exceptionally high vapour permeability and air permeability of Roofshield means that it can perform in conditions in which air tight alternatives will not.
The exceptional air permeability performance of Roofshield means that the roof space will result in similar air changes to that of a roof using traditional eaves/ridge ventilation. Therefore, another advantage of incorporating Roofshield into the roofing design is that it can lead to savings in labour and material costs due to removing the need for an additional vapour control layer in cold roof applications.
The inclusion of Roofshield provides significant protection for the roof and the house, preserving yet another essential part of the great Scottish heritage.