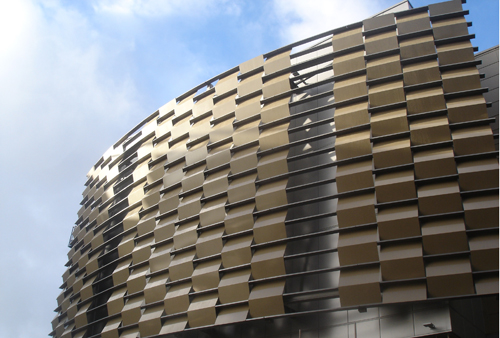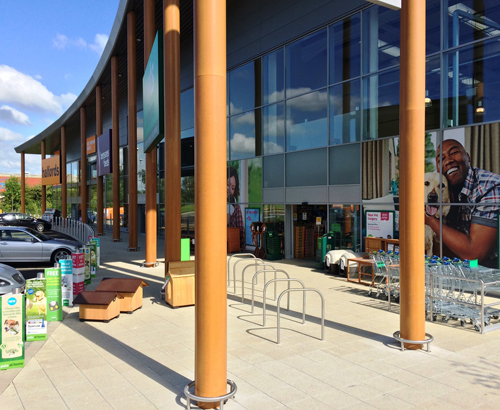 Architectural powder coating enjoys a prominent role in exterior building design, making an exciting difference to the landscape of our towns and cities. Powder coating manufacturers are having fun with powder chemistry, creating stunning effects and textures as well as a treasure trove of colours and shades to rival anything that the interior paint designers have to offer. Top range architectural powders are the new Farrow & Ball for exterior design.
With increasing concern for the state of our environment it has become paramount to design buildings that work with and complement the natural landscape. The need to satisfy the growing ecological and sustainable demands of the buildings has spawned extensive research and innovative new products, together with interest in natural shades, reflecting and blending with the landscape. Architects and environmental planners are coming to see buildings and other landscape structures as organic elements of a larger ecosystem. Ecologically built structures that resonate with our ideals will create less stressful environmental footprints, promoting ecological connectivity which will enhance the quality of life and the overall look of our buildings.
Colour and texture
At Powdertech, as part of the role of a professional powder coater we believe in assisting our clients with the colour and texture choices they are making. To offer natural shades that are a bit different and thought provoking, Powdertech has launched the Landscape range as one of its powder coating services. Colours within the range are inspired by natural surroundings in eight categories ranging from coastal to urban and space. When choosing a shade to complement a riverside business property for instance, it is immediately more illustrative of the designer's intent when 'White Wall' can be chosen rather than a simple RAL shade. The overall vision for the design stays on course and is enhanced. Powder coating – the first element encountered when someone views and visits a building – deserves a higher profile within the planning and specification process. We hope that embodying some of the wonderful shades now available with appealing names will help elevate the status of the 'final finish' for specification.
Powdertech Wood Finish (PWF) has long been popular and remains so, so much that we now have 'Roughwood' which, as it name suggests, incorporates the texture of wood as well. There are over seventy different wood finish shades, from the bright paler shades of Maple & Western Red Cedar, to the dark rich tones of Mahogany.
The range reflects the variation that can be found in woodshades and achieves the look of wood, which, when combined with the benefits of metal, appeals to many designers.
Natural sheen and lustre
Anodising has a natural sheen and a lustre which many designers quite rightly want to celebrate in their buildings. Powdertech Anomatch is a powder coating service achieving the radiant appearance of anodised metal on both aluminium and steel without needing expensive high grade substrates. The powders, available in a range of bronzes and blue / grey shades, play with the light moving across the metal surface, bringing the metal alive just as anodising does.
Bright and shiny 'newness' is not always the required look these days. Creating the look of rusted steel has become popularised by the product Coreten. The rich and fascinating shades of rust are achieved without the actual rusting process which degrades the steel. Within our Industrial range we have a powder coating called Rusted Steel which achieves a similar look on steel or aluminium. The blue / green verdigris colour of weathered copper can also be achieved through powder coating, as can shades resembling zinc in different stages of oxidation.
Other popular powder coating shades include terracotta, stone and slate. Lightweight, strong and recyclable aluminium can easily be made to resemble these earthy natural elements.
As further proof of our passion for colour and making sure it's the right colour for purpose, we thought it would be helpful for our clients to have a reference tool for colour selection and matching. We will be offering a ring-bound folder to clients in 2016, which comes pre-populated with swatches from some of our ranges and enables clients to keep all samples together as and when they order more. Colours, shades, textures and special effects created by powder coating knows no bounds! Powdertech has close contacts with worldwide major powder manufacturers and special colours can be made to a client's specification.
Colour definitely makes the world a better place, and working with the perfect colours for the immediate surroundings will give a building its own unique personality.