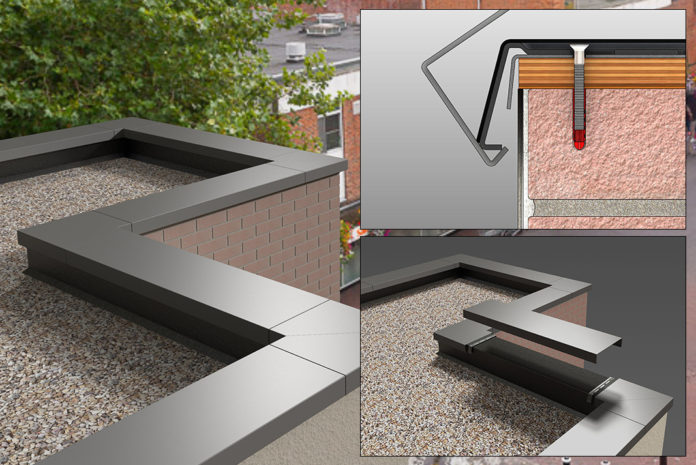 In response to demand for a quicker turn-around, Rainclear Systems, the UK's specialist metal rainwater system stockist and online retailer, are taking aluminium wall coping in the most popular colour, RAL 7016 anthracite grey, and the most frequently requested sizes, SL30 & SL36, into stock for next day delivery.
The Skyline aluminium wall coping
Top of the range product with high precision welding and finishing to suit all designs and budgets – retrofit or new build.
Manufactured from high quality BBA approved polyester coated aluminium.
Available in 26 standard RAL colours in just 10 days, and from October 1, 2019 available in anthracite grey in two sizes with next day delivery, only from Rainclear systems.
Hidden strap fixing method offers weather-proof covering that allows ventilation over the top of the wall. No fixings pass thought the coping, there's no penetration of the capping, and clean lines are maintained on the surface.
Lightweight, durable and non-corrodible, Low maintenance, and 100% recyclable.
Life expectancy of 40 years in rural/urban areas and up to 25 years in industrial and marine environments.
The two sizes: SL30 & SL36
SL30: The 362mm Aluminium Coping – Suitable for 241-300mm wide walls
SL36: The 422mm Aluminium Coping – Suitable for 301-360mm wide walls
Both now stocked in RAL 7016 anthracite grey for next day delivery.
Visit www.rainclear.co.uk to browse and buy the range online from October 1, 2019, or if you have questions about these or any of the metal rainwater, roofline or drainage ranges Rainclear Systems offer, call 0800 644 44 26 or email sales@rainclear.co.uk.