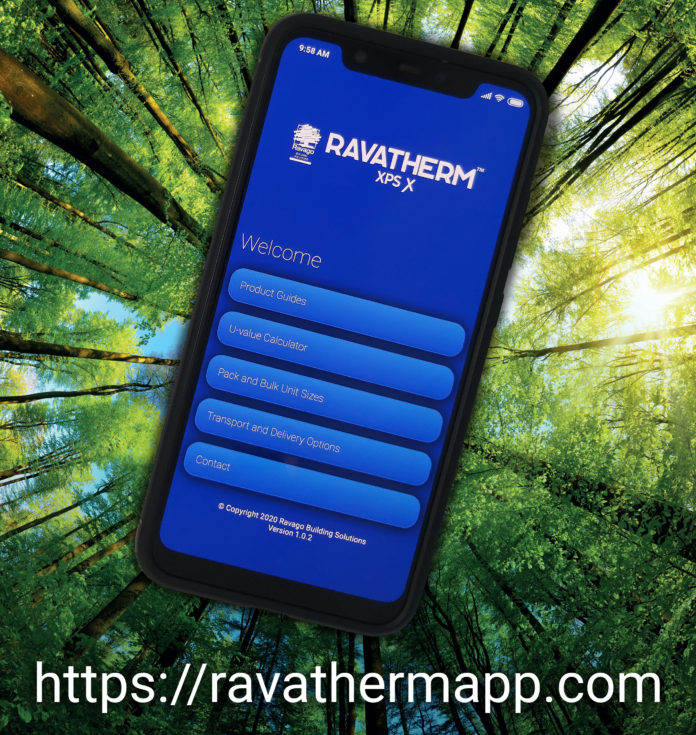 Ravago Building Solutions, the extruded polystyrene insulation (XPS) manufacturer, has launched the Ravatherm App, a new free digital tool for architects, specifiers and members of the construction industry.
The app provides quick and easy access to product information about Ravatherm XPS X, the company's range of thermal insulation. Users can also find essential technical data, gain an understanding of how to place and receive product orders, and perform initial U-value calculations for inverted flat roof and flooring applications.
Chris Gimson, commercial director for Ravago Building Solutions UK and Ireland, said: "We have been exploring launching an app for a long time, speaking with customers to ensure that Ravatherm App would feature the information and tools they need. This follows our decision last year to invest in a new packaging line to make it easier to receive, offload and unpack our products. We are continually looking for new ways to support our customers and are keen to learn how we can improve the Ravatherm App to make it a must-have tool for everyone in the construction sector.
"Ravatherm XPS X is already the first choice for architects and specifiers looking to deliver the most environmentally-sound buildings, while at the same time pushing design boundaries. The app makes it easier than ever to specify our market leading Ravatherm XPS X products."
The Ravatherm App is designed to work on a wide range of computers and mobile devices. Users on compatible Apple and Android devices will be prompted to install the application to enable offline use.