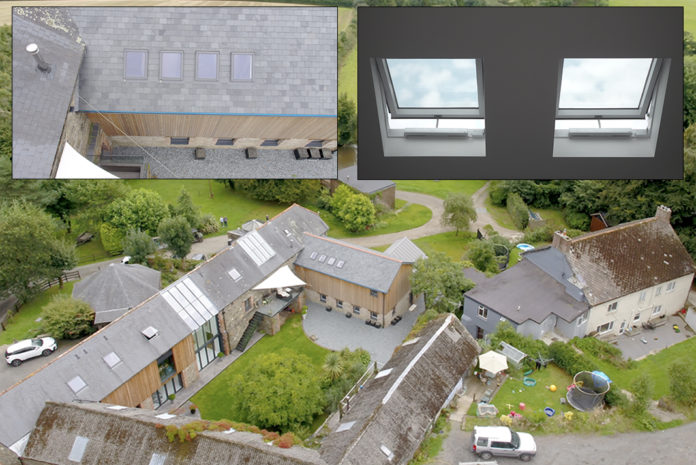 When property owner, Richard Prowse, required versatile roof windows, that were simple to install for his barn conversion property, Dakea's Better Safe PVC windows were the ideal solution.
Located in south Devon, the property is a large two storey building located in scenic countryside. To improve the property, Richard wanted to extend the building to include a large kitchen.
"The project started off as a simple kitchen extension but after some consideration we decided to add a gin distillery to the project too," said Richard. "The quality of light was very important to the job and we wanted the sunshine from the North to flood the kitchen. This entailed adding some extra windows to a room that already had seven meters of bi-folding glass to the front."
Richard decided that installing a roof window would be the best solution. As such, he selected Dakea's PVC windows, which were ordered through Jewson's Ivybridge branch.
With its toughened external glass and laminated internal glass, the Dakea Better Safe PVC is said to be easy to clean, resistant to damage and low maintenance. The windows have a ventilation valve and a handle with two extra locking positions, making it ideal for the large kitchen, an area of high humidity. Extremely versatile, the product provided the open and self-closing function required for the project and was simple to install. Furthermore, the window has an impressive 20-year guarantee.
Installation of the PVC roof windows was relatively simple, Richard highlights: "The windows are easy to install, in fact the only thing we had to work out was where the beams and rafters were coming down; and we had to adjust them slightly with the windows that fitted in there. They were braced up slightly so there was a slight bit of discussion with the structural engineer about making the rafters further apart.
"The service on this project has been very good, we haven't had any problems, but I felt that if at any time we needed any help, the sales rep would have been there. Dakea even came to the site a couple of times to check everything was progressing well – it's all been superbly done."
On the ordering process itself, Steve McEvoy, branch manager at Jewson's Ivybridge branch in Devon, said: "It was so easy. I only had to make one phone call to the sales office and the price and delivery time was given to me straight away.
"We used Dakea for the first time on this project and the service we received was second to none – we would definitely use Dakea again."