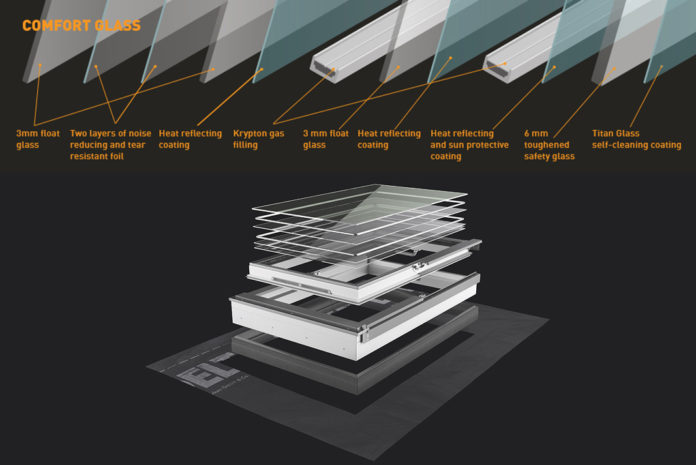 Following the successful launch of Dakea's Ultima roof window in 2017, the company is now expanding the range further with Ultima Energy. The new generation of roof windows incorporates triple pane construction to create a low U-value. Now available with a PVC frame, Ultima Energy is said to be ideal for projects that have stringent energy efficiency requirements.
Available now, the Ultima Energy offers a significant improvement to the previous Ultima when it comes to energy efficiency. Due to the window's three pane construction which is filled with krypton gas (conducting 46% less heat than frequently used alternatives, such as argon) the wooden product offers a Uw-value of 0.99 W/m2k. This, combined with the window's two different layers of heat reflective and sun protective coatings, reportedly keeps properties cool during the summer and warm during winter, reducing household energy bills.
The range still incorporates two methods of noise reduction technology: airborne sound insulation and impact sound insulation. This is achieved through its combination of a toughened 6mm thick external pane, two layers of sound-absorbing foil and cladding with noise-absorbing tape which is said to reduce the volume of both external noise and impact sound by half.
Following customer demand, the Ultima Energy now also comes with a polyvinyl chloride (PVC) frame, alongside the traditional natural and white wood frame used within the previous range.
Ultima Energy comes with a 20-year guarantee as standard that is easily transferable with no registration required. The 6mm thick external pane also has a lifetime warranty against hail.