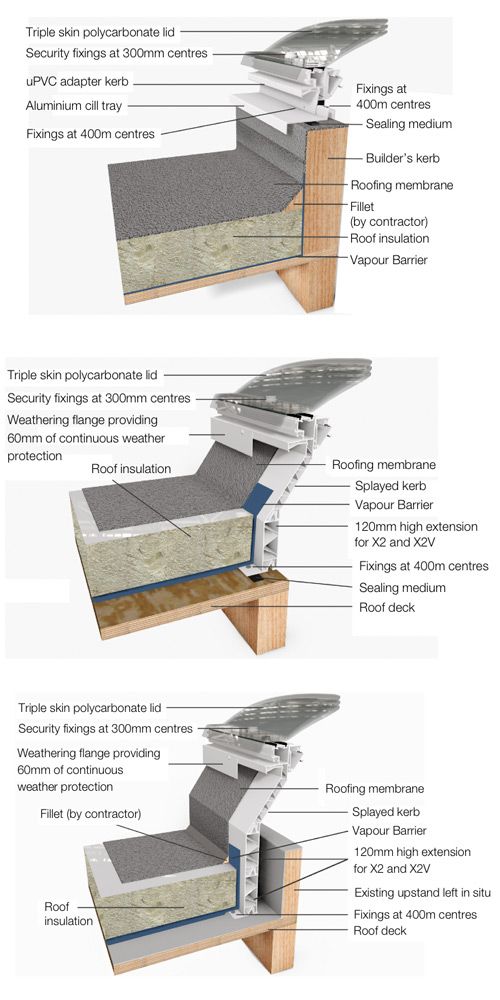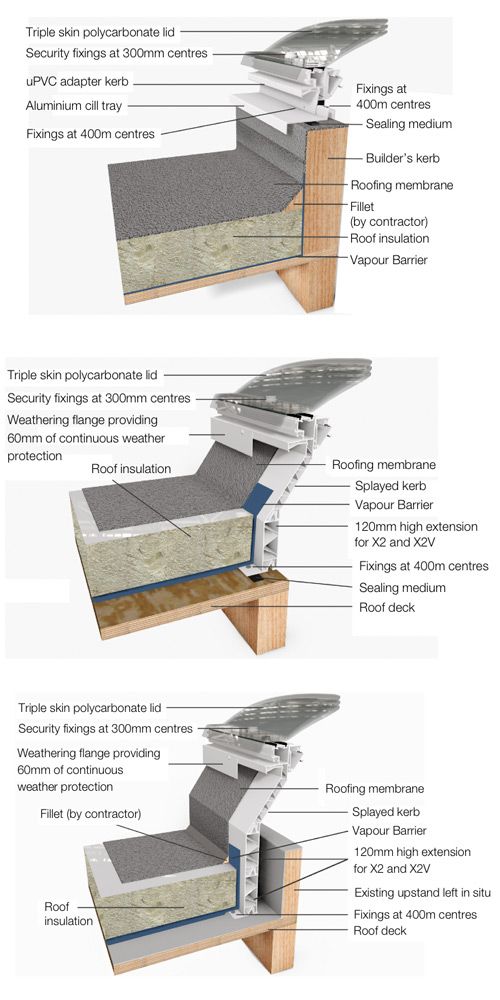 Following 18 months of development, Xtralite has launched the updated X2 range, which it describes as "the next generation of rooflights".
According to the rooflight manufacturer, to increase the height of a rooflight kurb to accommodate different thicknesses of insulation, a metal attachment has had to be added in the past. Xtralite has now developed its X2 line to include a new flexible range of PVC kerb heights, which means that its rooflights can now be raised or lowered to any required depth.
Speaking exclusively to RCI at Xtralite's manufacturing facility outside Newcastle, sales director Jim Lowther said: "It is a radical new design for the way that rooflights are fabricated.
"Traditionally any degree of flexibility has always been [achieved] by using metal sections. Now the flexibility is available using PVC, which is [an] industry first."
Available for both vertical and sloping upstands, the new system uses interchangeable interlocking PVC extrusions to add small increments of height to suit an infinite number of options. This interchangeability allows the solution to take the place of a number of different rooflights in one, and can be applied to glass-glazed and polycarbonate units, meaning it can meet specific glazing performances in terms of fire, sound attenuation, U-Value, G-Value and impact resistance.
The PVC extrusions can accommodate both flat board and tapered insulation schemes without the need for the contractor to construct timber grounds. They also have a splayed upper component, which means that "sleeve over" units can be constructed to suit variable upstand heights, and provide over 40% more light than their standard splayed equivalent.
The availability of this system has also reduced lead times for contractors on site who will benefit from a simplified installation process.
As well as the interchangeable kerb heights, Xtralite has redesigned its range of rooflights to include a whole host of additional benefits. The solutions now offer increased membrane coverage to reduce the issue of mitres bulging at the corners of each rooflight, reducing the risk of penetration down the back of the membrane.
A double gasket has also been added to create a positive seal between the outside and inside of the building, reducing the risk of cold bridging and therefore condensation.
The system's ventilator now has a continuous lap running along the length of the unit to allow for easier use. The redesign has also meant that air is now discharged upwards towards the underside of the glazing to reduce the risk of condensation and cold down draughts, with a new channel adding further protection.
It also features a series of new additions to reduce the risk of water ingress, including a glazing fixing that attaches between the glazing gaskets into a fully drained enclosed chamber; a 60mm weather flange that is removed for the application of the roofing membrane then reattached to provide continuous weather protection to the leading edge of the weather proofing membrane; and a fully drained ventilation system.
The vent is also designed for easy use and provides a maximum 80cm2 per linear metre when fully opened providing higher levels of ventilation than traditional rooflight vents. It can also be opened fully or by 50%, either through manual or electronic means. The opening units pivot on a continuous hinge for increased stability and are manufactured from co extruded PVC, resulting in a maintenance free operation.
Jim Lowther added: "I find it quite an exciting product and big step forward.
"We think this particular design will take the company well into the future, and it's certainly ahead of anything else being put out into the market."
The system comes with a 20-year Insurance Protected Guarantee and is therefore fully compliant with all applicable UK Building Regulations and health and safety requirements.