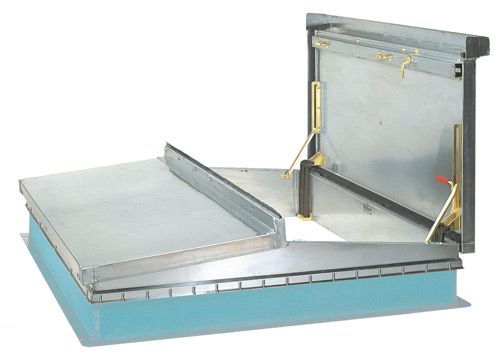 The Water Well Building is built into the landscape and houses a borehole, which provides drinking water for the facility, and Bilco says its D-50T roof access hatch is providing a convenient means of access for maintenance.
Danny Galvin, quantity surveyor for VINCI Construction UK, commented: "We have used Bilco products a number of times in the past and know that we will be supplied with a quality product that meets the demands of its environment.
"On a building where people will need to gain regular access to a space for ongoing maintenance, an access hatch that is easy to use and suitable for moving large equipment through is ideal and the Bilco D-50T fitted the bill perfectly."
Bilco says that compression spring operators make the D-50T easy to use, even with one hand, whilst the automatic hold-open arm locks mean that the doors will remain in the open position whilst equipment and personnel pass through the hatch safely.
The D-50T roof access hatch is built from corrosion resistant materials to provide many years of dependable performance that ensure that weathertightness and energy efficiency is never compromised.