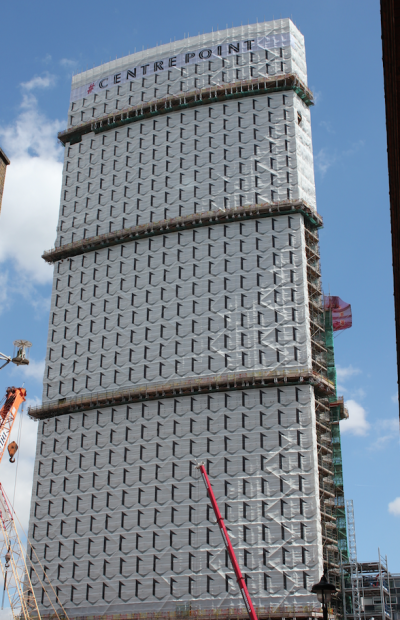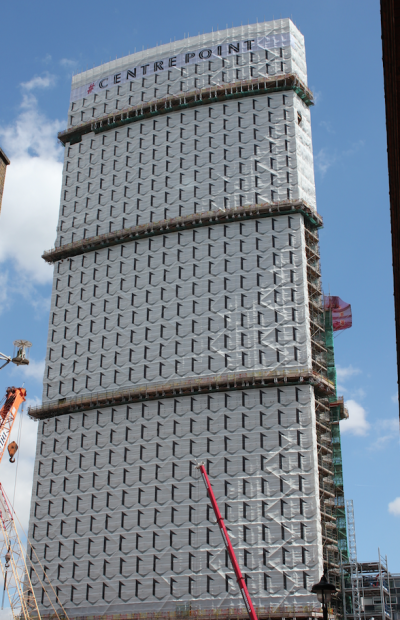 A hybrid of products from Icopal's Monarflex range provided a bespoke scaffold wrap to Almacantar's Centre Point during its revival and construction in 2015.
To meet the brief of the construction of 82 exclusive residential apartments, restaurant and retail space, Icopal worked closely with Hat Trick Design, Almacantar's design team, to develop the purpose-built plastic wrap through a series of meetings and mock-up trials.
The bespoke sheet was designed so that it could accept the digiprint logo in the largest possible size. It also had additional lines of tie points to meet the standards required and satisfy Camden Council.
The material itself, which has been named Monarflex Stripe Firesmart Plus, combines the benefits of the existing products in the Icopal Monarflex range. This forms a three-ply composition with two outer layers made from special, highly weather resistant, low-density polyethylene (LDPE) that also features flame retardant additives. On top of the sheet, there are five super high strength woven and plastic coated bands that are made in pre-set patterns, meaning that they fit virtually any type of scaffold. For even more versatility, the sheets have been designed so that they can be applied both horizontally and vertically.
Installing the Stripe Firesmart Plus meant that open construction and machinery were protected from dust particles from sandblasting or water jetting from façade works.
Furthermore, the climate shield element also means these are protected from rain, wind and snow, allowing main contractor Brookfield Multiplex to ensure deadlines are kept regardless of weather conditions.
Alex Swatridge, director and designer at Hat Trick Design, commented: "Centre Point is an iconic landmark in the heart of the city and we wanted the building to retain its impact whilst wrapped. The pattern ­ designed by Eley Kishimoto ­ was adapted to create maximum impact whilst working with the modular system of the wrap. It is easily one of the most exciting projects we have been involved in."
Gary Maynard of Icopal added: "Despite our wide range of products available, we recognise that sometimes the most efficient way to meet the brief is to provide the option of a unique design. We can create bespoke material for most projects and we're always happy to hear from our suppliers and customers on how we can help them get the job done."