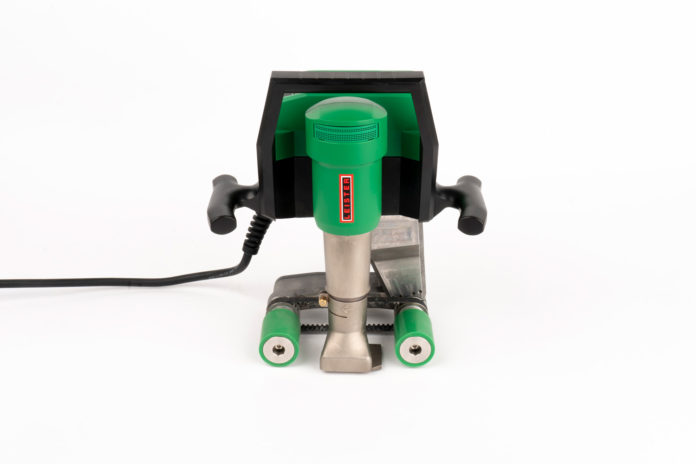 LEISTER's UNIDRIVE 500 has been developed and produced in accordance with the latest state-of-the-art technology in the plastics-processing industry.
This reliable and economical semi-automatic welder gives the user more automation than hand welding, whilst complimenting automatic welding.
Its compact and lightweight design makes it easy to manoeuvre through tight spaces, combined with a choice of three different sized rotating nozzles and dual direction drive system, allowing for welding in both directions, including vertical and horizontal.
With welding speeds three to five times faster than traditional hand-welding methods (welding performance up to 2m/min), roofs can be made leaktight quickly and safely.
The UNIDRIVE 500 boasts three ergonomic handles that provide ultimate welding comfort, stability and balance, making handling of pressure and guiding so much more effortless. The UNIDRIVE 500 offers a speedy, powerful, and ergonomic solution for fatigue free welding.
Other key features of the UNIDRIVE 500 include digitally regulated temperature, speed and air-flow range, which can be adjusted at any time during the welding process.
Fitted with LEISTER's robust device components, the UNIDRIVE 500 has low service costs with maintenance-free brushless drive and blower motors, for easy upkeep, fewer spare parts and optimised performance. The tool sets a new standard for reliable, high-quality curb and base flashing, edge-metal, vertical wall and parapet detail welding.
Its versatility makes the UNIDRIVE 500 the go-to tool for all roofing applications – commercial or residential, detail welding, sky lights, small roofs, flat and sloping roofs, and cross welding.
It can be used for edge-close welding on roof parapets and eaves up to 60mm, overlap welding of thermoplastic and elastomer sealing sheets and overlap welding of base seams.