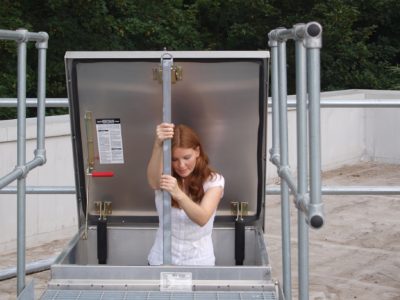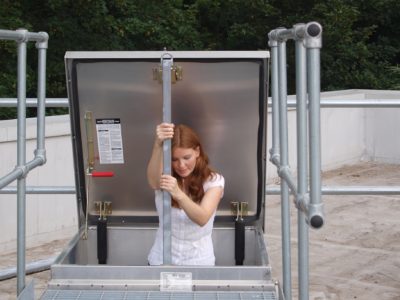 The distinctive, recently restored Lighthouse building in Kings Cross, London, has recently been fitted with a range of Bilco products to ensure that it will be safe for all who use it. These include a Bilco S-50T roof access hatch, a BL-S-WH2 vertical ladder with safety cage and five additional vertical ladders.
Each ladder has been fitted with Bilco's LadderUp safety post, which enables users to maintain the essential three points of contact.
Five type FR Fire Rated Floor Doors fitted with fire detection and self-closure were also installed as a fire prevention measure.
Tom Williams, quantity surveyor for Balfour Beatty, said: "We opted for Bilco products as the company has a stellar reputation. Not only could they provide the product quickly, they could deliver it on budget too. The Lighthouse building has survived for more than 100 years and we wanted to ensure that it will continue to be a local landmark for as many years to come by providing it with a new lease of life.
Originally built in 1884, in recent years the Lighthouse building had fallen into disrepair but it has now been completely restored and enhanced to provide modern retail spaces on its ground floors and an additional four floors of office space.
Bilco's products are built to meet the latest quality and safety regulations, safeguarding all those working in the building and involved in its maintenance.
The company says every care is taken during the design and manufacturing process to guarantee that Bilco products are fully weatherproof and preserve the integrity of the building to which they are fitted.