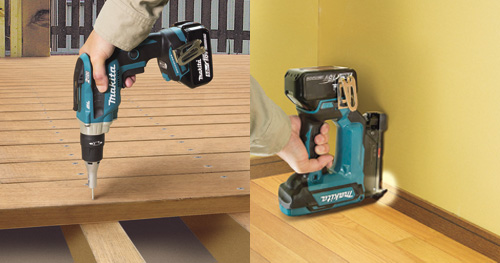 Makita's latest version of the 18v cordless drywall screwdriver runs up to a maximum 2500rpm – lower than its predecessor – but delivers greater driving torque from the Brushless motor, with a TEK screwdriver version now available for the first time.
The new Makita DFS250 LXT drywall screwdriver with ¼" hex drive shank will drive home 5mm drywall screws, 6mm self-drilling screws and 90mm x 4.5 coarse thread fixings.
This new Makita drywall screwdriver features Push Drive Technology where, with the lock-on button engaged, the motor will not rotate under no-load conditions, resulting in reduced overall power consumption. The drive will start rotating at full speed only when the screw is pressured on the board surface.
Weighing just 1.8kg the Makita DFS250 is available as a body only machine or with two 5.0 Ah Lithium-Ion batteries in a Makpac case.
The new Makita DFS251 machine is the TEK screw version, which offers all the attributes of the DFS250 and will power a 6mm hex screw socket. TEK screws are the core fixings for cladding and panel walling systems.
The new Makita DPT353 LXT pin nailer takes 23 Gauge (0.6mm) size nails and can deliver 15, 18, 25, 30 and 35mm length nails.
The DPT353 has a low reaction force mechanism which enables easier nailing of long pins. Makita recommends that a trigger safety lock should always be applied when the machine is not in use. It comes with an LED job light, soft grip handle, belt clip and battery fuel gauge. It is available with two 5.0 Ah Lithium-Ion batteries in a Makpac case, or as a body only machine, and replaces the DPT351 model.