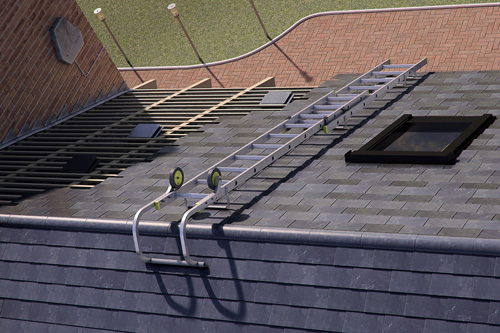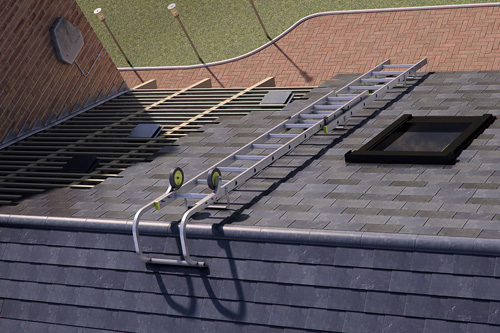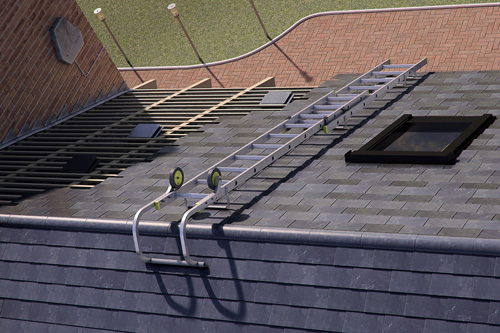 It goes without saying that working at height comes with serious risks. If the appropriate health and safety practices are not followed, workers could be at risk of falling, which could result in serious or fatal injuries. Roofers regularly spend their time working at height, and many are conscious of these risks. However, the Health and Safety Executive (HSE) recently reported that the majority of falls occur from the edges of roofs, through the gaps in roofs, or through fragile materials and roof lights.
Therefore, the necessary precautions must be taken to safeguard yourself and your employees. It is recommended that there is a secure means of entry and exit when accessing a roof. A general access scaffold or tower scaffold will provide the most suitable solution, but a properly secured roof ladder should be the minimum requirement. With both flat and sloping roofs, it is crucial to understand the different precautions that need to be taken to ensure workers minimise the risk of injury.
A sloped roof is commonplace on both new and older buildings, and remains the preferred roof design for domestic houses. It is therefore an integral part of any roofer's job to understand how to maximise safety when working on a sloped roof.
Full edge protection will usually be required when working on sloping roofs. It may seem obvious, but when working on a sloping roof, workers should never stand directly on slates or tiles, as they do not provide a safe footing, particularly when they are wet. A roof ladder should be used in this instance.
There are a number of important factors to consider when purchasing a suitable roof ladder. It is crucial to check if it has been designed for the purpose; if it is of high quality; if it is properly supported and securely fixed with ridge hooks; if it is of suitable tread depth; and if it is simple to use. Werner's 771 Series Roof Ladder meets these specifications with ease. With a heavy-duty roof hook allowing for a superior fit across the roof apex, and a large rubber-sleeved end bar to enhance safety and grip, it is the ideal solution for any sloped roof application. Its 150kg load capacity also makes it practical and easily manoeuvrable.
Gary Downing, who has owned G. Downing Roofing for more than a decade, has been using the Werner 771 Series Roof Ladder for the last year in all aspects of the job including soffits, fascias, guttering, slating, tiling and chimney work. Based in South Yorkshire and the surrounding areas, Gary specialises in built-up torch on felt roof. Speaking of his experience with the Werner 771 Series Roof Ladder, he said: "I had never used Werner products before, but I am really impressed with the roof crawler. It is both light and strong, making it ideal for working on terraced properties, and it is exactly the right length to ensure the offshoots at the rear do not impede on the gutters, which is a problem I've encountered with roof ladders before."
Ease of manoeuvrability

The wheels on the 771 Series allow for easy manoeuvrability, and the large wheel diameter means less force is required for correct positioning. The softer rubber wheels also increase grip when rolling the ladder up the roof.
For added support when working at height, rubber sleeved support bars are a useful feature to look for as they provide protection for the roof or tiles by ensuring that weight is distributed evenly across the ladder; this will help reduce the risk of material damage when at work.
"I would recommend Werner products highly if the standard of this ladder is anything to go by," said Gary. "I use the roof crawler almost daily and I am delighted with it."
When working on a roof, workers must have appropriate knowledge, skills, training and experience to work safely, or should, at the very least, be under the supervision of someone who has. The Ladder Association training scheme offers a range of courses to suit every level and type of ladder user. WernerCo always recommends that appropriate training is taken on a regular basis to ensure that users are up to date with the latest industry standards.
For more information on the Ladder Association courses offered by WernerCo, email ukcustomercare@wernerco.com