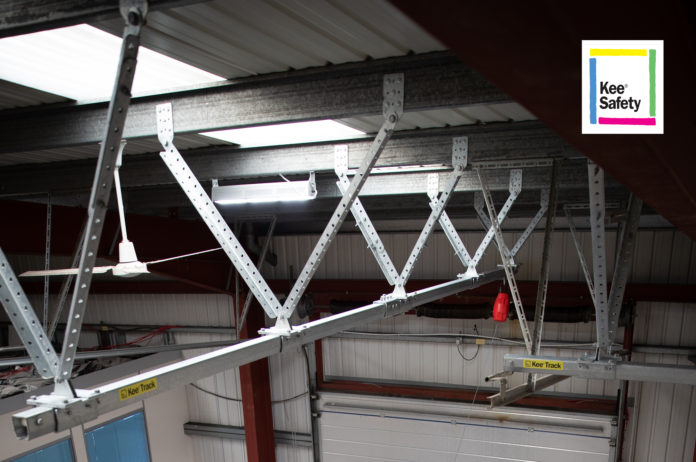 Kee Safety has launched Kee Track, a highly versatile rigid rail fall protection system designed to provide safety in the internal workplace and offers installers an affordable solution that is simple to design, quote and install.
Developed and created by professional engineers, Kee Track targets industrial and commercial applications where the staff working at height need to stop a fall within a minimal distance. With a reduced need for engineering, Kee Track opens new opportunities to installers who have not previously offered an overhead rigid rail solution.
With its unique range of mounting options, Kee Track is intended for use on metal roofs that feature exposed beams and purlins. Thanks to an innovative attachment bracket, this solution can be used in both parallel and perpendicular installations. Being modular in design, Kee Track offers increased flexibility that allows installers to work around onsite obstacles.
Available in 3m sections, Kee Track is configurable from a range of modular galvanised components, including rigid rails, brackets, hangers, trolleys and patent-pending clamshell rail clamps, which are fixed in place by lifting rather than sliding. Unlike other rigid rail systems that require a connection to primary steel, Kee Track attaches directly to the secondary steel, eliminating the need for additional beams.
Following a site survey, installation requires a team of two installers working from a mobile elevated work platform. With basic handheld tools Kee Track is quick and easy to build, allowing a 50m system to be installed in a single day. This ease of attachment makes the installed price competitive and reduces interruptions to the end user's work schedule.
Kee Safety will be providing its customers with an online training course that will focus on quotation and safe installation.
As with all new products, Kee Safety completed thorough structural and performance verification testing of Kee Track at its UK test facility. Several installation scenarios and individual track components were carefully assessed.
Kee Track is fully compliant with several international standards and meets the requirements of EN 795:21012, CEN TS 16415:2013, BS 8610:2017, OSHA 29 CFR 1910.140 and 1926.502.
https://keesafety.co.uk/products/rigid-rail-fall-protection-system