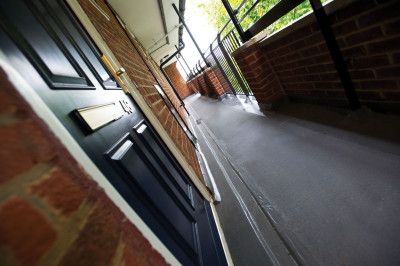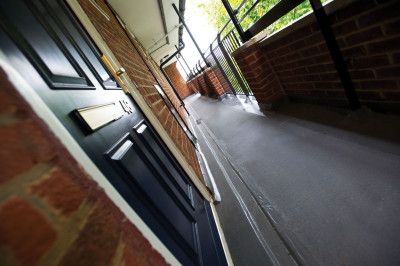 From the beginnings of the liquid market whereby bituminous solutions and emulsions were often used, the liquid roofing industry has grown into a multi-million pound market with products which are now at the very forefront of waterproofing technology. Whether for refurbishment or new build projects, there are systems and products available that can be used in all areas of roofing.
One innovative technology which has come to the forefront is PMMA (Polymethyl methacrylate), which offers one of the fastest curing times of any liquid applied membrane in the market. The product has the ability to cure in 30-40 minutes, and in some cases even quicker if required.
PMMA is a perfect solution as a liquid applied waterproofing membrane on flat roofs with limited access and gutters, where speed of application is a major advantage.
The solvent-free cold applied liquid resin, which consists of two components, cures following an extremely rapid in-situ polymerisation, which is activated by the addition of a peroxide catalyst. This curing proceeds rapidly even at temperatures around 0°C.
The membrane is reinforced with a polyester fleece and is installed wet-on-wet. This means that the polyester reinforcing fleece is first saturated with liquid resin, bonding the membrane to the substrate, with the surface layer then applied onto the bonding coat whilst still wet – therefore forming a single seamless membrane of uniform thickness. The advantage of this type of application is that on smaller roof areas, a one-day application may be possible as there is no need to wait for drying between coats.
PMMA has also been proven to be perfect for situations where the contractor's access to the area to be treated may be restricted, and a fast application is desirable. A typical scenario would include communal walkways and stair wells within housing blocks frequently seen in urban areas, where residents require access to their home within an acceptable time period. Fast application allows the contractor to be on and off site in the minimum amount of time, whilst reducing the possible need for temporary access such as staircases which can be costly.
Hardwearing
PMMA systems are compatible with almost all substrates and are exceptionally hardwearing. They have been proven to withstand the demands of a walkway, balcony and terrace environment, providing reliable waterproofing and protection in combination with functional surfacing.
Because of this, at Sika Liquid Plastics we are introducing the Sikalastic Rapid Range of PMMA technology into our product portfolio.
The new products will perfectly complement the other liquids in the range such as Decothane Ultra and Sikalastic-625 that are based on Polyurethane technology, proving that as a company we have a cold applied liquid solution for every job, no matter the size, budget or complexity.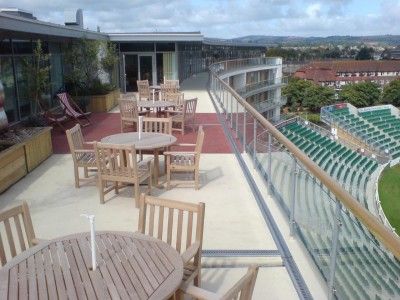 Full service
The full Sika Liquid Plastics service package will be available with the Sikalastic Rapid range which includes initial consultation, technical specification design, and UK wide on-site technical support for the installing contractor, with final project sign off. A range of guarantees are also available which include material and workmanship ensuring peace of mind for the client.
Due to the specialist application of this technology, it is important to ensure the correct support is in place for approved contractors. For those with extensive experience within PMMA technologies, at Sika Liquid Plastics we will ensure our dedicated national team of field technicians will fully support the contractors throughout projects. For approved contractors with a little less experience using the Sikalastic Rapid range, they would be required to attend a new training course for the New Sikalastic Rapid Range at the Sika Liquid Plastics Training Academy in Preston. This is to ensure that all installers meet the standards required, and the support will not end there; full onsite support will be given on live projects from our Applications Team.