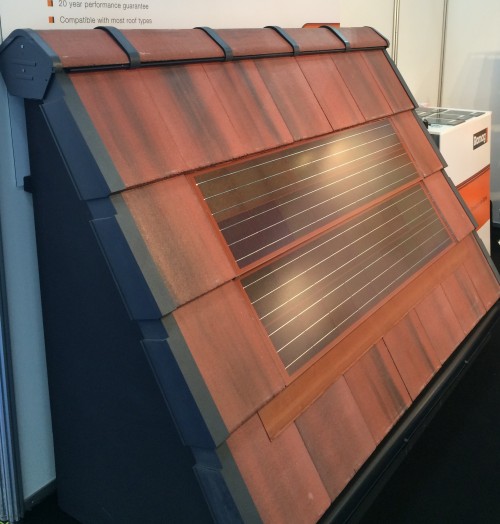 Romag has launched a new concept in building integrated PV products that it says will allow property aesthetics, building design and visual appearance to remain uncompromised by rooftop solar installations.
The Intecto integrated solar PV tile has been designed to fit seamlessly alongside standard residential and commercial roof tiles, and is available in a range of colours to match existing roof coverings.
The system has been specifically developed to enable architects, house-builders and roofing contractors to provide an effective rooftop PV solution with a conventional appearance and without any compromise in solar power production.
Installed directly and securely onto wood roofing battens using a guaranteed fixing system, the frameless Intecto units sit flush with conventional interlocking concrete, clay and terracotta tiles and can be used to provide a whole roof PV solution if required.
The lightweight tiles reduce roof loading, eliminating the need for any roof reinforcement, and contribute to higher Code for Sustainable Homes and BREEAM ratings.
The special roof integrated tiles have been developed to meet design and aesthetic considerations, and can be used to meet specific planning conditions. They are also appropriate for use in heritage and green-belt areas, where the requirement is for rooftop solar PV systems that maintain the integrity of individual buildings and their local environment.
The Intecto roof tiles incorporate the same high quality PV cells used in Romag's existing range of PV products, enabling the new system to provide the same weatherproofing and protection measures provided by traditional tiles, but with the added benefit of renewable energy generation.
Kevin Webster, technical director for Romag, said: "There has been considerable recent debate about the aesthetics of solar panels and how colour matching may compromise the effectiveness of solar PV products.
"By successfully blending into the roofscape and maintaining power output efficiencies, Intecto successfully overcomes both these challenges and provides an effective solution to the need to maintain the integrity of a building in its local surroundings.
"As a result, the system has the potential to revolutionise roofing and building practices and bring a new dimension to the ability of building integrated PV products to replace conventional materials and add renewable energy performance to a property."
Available in black, grey and terracotta colours, the new range is fully IEC and MCS certified and complies with other international and European building industry regulations and roofing performance standards.
The Intecto range is supported by long term workmanship and performance guarantees.