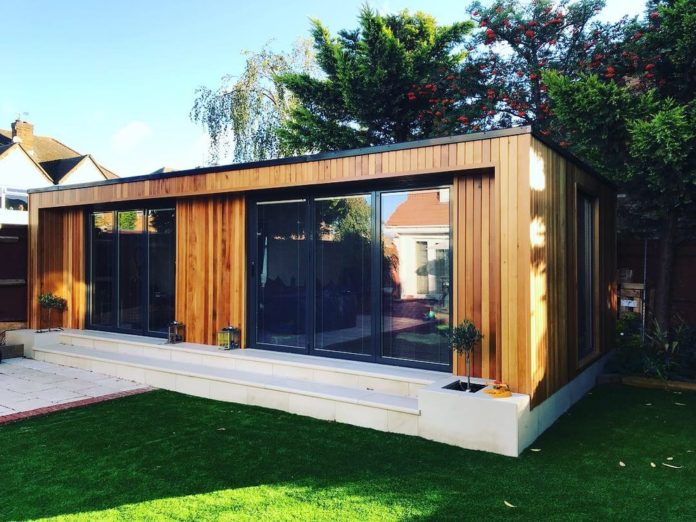 Recent events have led many employees and businesses to reconsider the world of work, particularly the need for office-based staff.
The lockdown forced most offices to close, and as a result, staff were able to see the benefits of working remotely.
Many employees are now enjoying working remotely and the freedom it brings, with studies showing that more than 60% of the working population are eager to continue working from home.
Companies are also noticing the benefits of having a remote workforce, with many, including major corporations like Twitter moving towards permanent home working policies.
While working from home is convenient, it can also be hard to switch off after work, and to create a comfortable space that facilitates productivity. As a result, demand for garden rooms is rising, with many homeowners keen to create the perfect outdoor office.
They'll get the best of both worlds – the beauty of nature with the security that comes with being inside. Garden offices are perfect for anyone who plans to work from home all year round, but designing the ideal solution can be a challenge.
Many homeowners expect their roofing or building contractor to help them choose the building materials for their new garden building. If property professionals don't have a lot of experience with garden buildings, then they might struggle to give accurate advice and help their clients to find the ideal roofing solution.
In this article, I outline how roofing contractors and other construction professionals can support their clients and help them find the ideal roofing products for their garden office.
Understand exactly what the client expects
Before they even begin to suggest roofing materials or solutions, contractors should first get an understanding of what the client wants from their new garden office. The best approach is to read the written brief, and then discuss it with the client to find out what they want from their new garden office.
By talking to them and getting an understanding of what they expect, contractors can then narrow down their options and provide advice and suggestions that are tailored to the client's exact requirements. This approach will only work effectively if contractors take the time to learn every facet of their client's design ideas for their new garden office. Some homeowners struggle to articulate what they want, so contractors might have to spend some time discussing it with them to get the complete picture.
Discuss their budget
As well as client expectations, construction professionals also need to find out how much money the client expects to spend on their new garden office. They then need to take into account other costs and work out how much of this budget has been set aside for the roof. Then they can find a cost-effect solution that meets the homeowner's needs.
While the initial cost of the roof is important, contractors also need to consider the long-term. All roofs need maintaining and, eventually, replacing, but the frequency and cost of these services depends on the solution that the client chooses. If the client wants a low-maintenance roofing solution for their garden office, then their contractor should recommend a durable solution, such as rubber roofing products.
Rubber Roofing Direct offers rubber roofing and EPDM rubber roofing membranes, and are trusted by roofing professionals throughout the UK. Contractors should check out their range of products and consider suggesting them to homeowners that want a long-lasting roofing option for their garden office or any other outbuilding.
Remind the client of the unpredictable British weather
Many roofing solutions, such as thatch and glass, look fantastic but aren't robust enough to withstand the unpredictable British weather. For contractors whose clients have their hearts set on a fashionable garden office design, reminding them of the unpredictable nature of the weather in this country could be the perfect solution.
This approach is particularly effective for homeowners that live in areas that are prone to bad weather, such as by the coast or in an area with a lot of trees. Contractors can remind their clients of the dangers that the weather poses to their garden office to encourage them to choose a practical roofing product.
Show them some inspiration
For contractors that are struggling to convince their clients of the benefits of a solution that could work well for their garden office, visual inspiration is the key to success. They should check out garden building inspiration images online and choose ones that incorporate the solution that they are suggesting to their client.
Many homeowners appreciate visual images more than words, so pictures might convince them. If contractors have worked on garden office projects previously, then they can consider sharing images of the work that they have done in the past to emphasises the benefits of their preferred roofing solution. Contractors should also consider showing their clients samples of the materials. This approach allows the client to view the products that will be used on their new garden office and find the one that they prefer.
Recommend a professional roof installation expert
Construction consultants who aren't able to install the roof themselves should also recommend a professional roofing installer, to ensure that their clients get their new roofing solution fitted correctly. A poorly-fitted roof can damage the structure of their garden office and will need replacing more often, so advise them to spend more now to save money in the long run.
By working with a certified professional, they can get their roofing solution installed quickly and expertly, leaving the homeowner free to enjoy their garden office without any hassle. Property professionals should recommend roofing installation experts that they've worked with before, so that they know that their client will receive the best possible service.
Overall, it's impossible to decide the best roofing solution for any client – contractors can only give them the benefit of their expert advice and industry knowledge.
Property professionals should use this article to get some inspiration and improve their chances of steering the homeowners that they work with towards the perfect roofing products for their garden office.