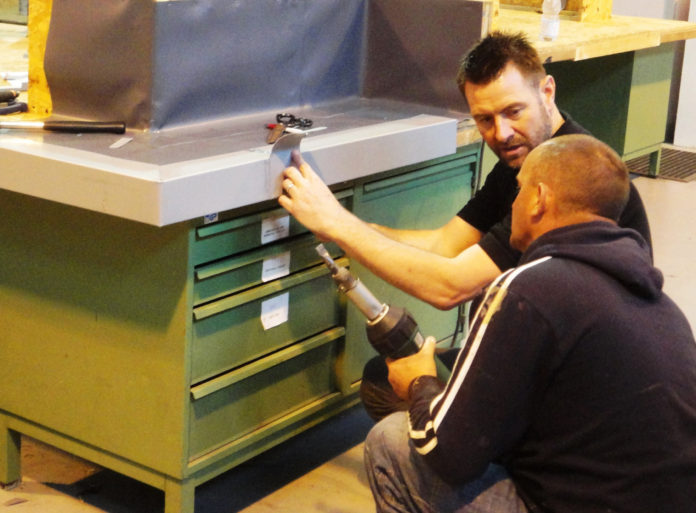 Paul Jacobs, installation and training manager at SIG Design & Technology, discusses the importance of installer training, and why it is the responsibility of the roofing industry to contribute towards minimising the skills shortage gap.
Although the recent upsurge in work has undoubtedly been a good thing for roofing contractors, it has also highlighted the difficulties when trying to recruit installers.
Recent lockdowns have created a perfect storm; an upsurge in contracts, especially with repair, maintenance and improvement work, coupled with a shortage of qualified installers, has meant they are now busier than ever.
As a result, many roofing contractors simply don't have the time to train new apprentices.
According to the Chartered Institute of Building (CIOB), this problem is not going to improve, and the industry will need to find 160,000 new recruits by 2023 to keep up with demand.
So, how can we meet the demands of the industry and provide enough trained installers for the increasing levels of work?
Roofing as a career choice
Opportunities should be available for young people to provide them with relevant and reliable training that enables them to become actively involved on-site.
It goes without saying that installing a roof is a skilled job, especially with an ever-expanding product market and differing installation methods. When designed and installed correctly, it leads to a roof that has been designed to last.
Roofing product manufacturers and suppliers have an important part to play when it comes to supporting the industry, feeding the pipeline to offer product specific training, not only for experienced installers but also teenagers new to the industry.
Building futures
This is the reason why SIG is supporting Rydale Roofing – to promote roofing as a career and offer development opportunities to young people in the Midlands.
Recognising that roofing is not seen as a career choice for youngsters and limited training opportunities in their area, Rydale Roofing joined forces with Juniper Training to launch the Building Futures, Stoke-on-Trent Roofing Hub. This pathway is only the second to be launched in the West Midlands and will create job opportunities with building companies across North Staffordshire and beyond.
The new purpose-built Roofing Hub runs courses for young people aged 16 to 19, and offers a mix of computer and practical learning, which will enable young people to learn a variety of skills.
The course lasts 24 weeks and on completion attendees will gain their CSCS Card, Level 1 Introduction to Construction, Manual Handling, Fire Safety, Asbestos Awareness and Manual Handing Training.
Product training
Of course, training shouldn't end once you've got the initial qualifications. Roofing product manufacturers and suppliers should continue to support installers throughout their career, whether they are new to the industry or have been on the roof for years.
Suppliers should champion an integrated approach to their training where quality of installation is an essential element in the roofing process. Look for courses that will give installers both a solid mixture of both technical and practical knowledge, and enough hands-on time to work with the materials.
The course content must always cover health and safety (including COSHH and manual handling). Trainees should be given a "takeaway pack", which will give them straight forward – technical information to look at after the course is finished and a certificate of attendance.
As an example, SIG runs a Design & Technology's Accredited Contractors (DATAC) scheme, where installers can choose to train in a wide range of flat and pitched roofing systems, including single ply, hot melt and hard metal roofing and cladding.
Our training also works to develop the career path for apprentices. For example, an Armouplan Single Ply course from SIG Design & Technology acts as a stepping-stone towards a Level 2 NVQ in Single Ply Roofing.
Beyond the training room
Ideally, you want to work with a supplier whose philosophy on vocational training in roofing skills goes beyond a one- or two-day course. SIG has a team of professional staff to support installers at every step. That means once trained, you are not on your own.
A nationwide team of experienced field and office-based technicians are available to give you excellent site support, carry out inspections and advise on workmanship, detailing and interfaces.
A dedicated team is also on hand to provide a full technical service at no charge, this includes wind uplift, thermal and interstitial condensation, calculations with a full system guarantee at the end of the job. It provides both the customer and you with complete peace of mind.
>> This article appeared in the July issue of RCI on page 22.