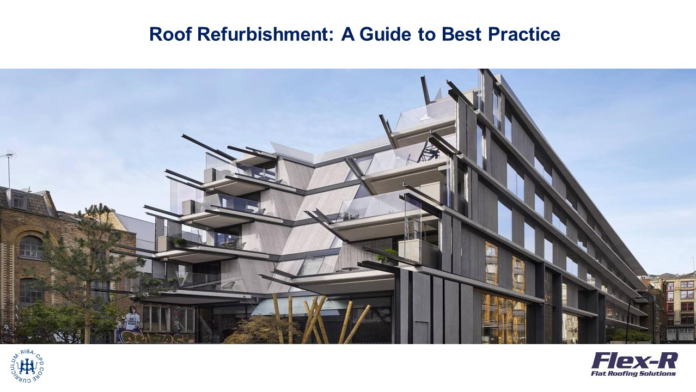 Flex-R has launched a RIBA-approved CPD seminar entitled: 'Roof Refurbishment: A Guide to Best Practice'.
There are many different factors to consider when working on roof refurbishment projects. How the roof survey will influence the design? Do you understand the different roof types available? What is the condition of the roof deck and should you strip or overlay?
This seminar will guide you through the step-by-step refurbishment process, covering the options available for upgrading the insulation, selecting the correct waterproofing system, and what to expect from suppliers. Best practice examples will also be shown through Flex-R projects, demonstrating how the results of the survey and requirements of the client impacted decisions.
The CPD also addresses how to avoid common problems with detailing, compatibility, and interfaces. There's a checklist of what manufacturer support to expect, plus advice on compliance with British Standards and codes of practice.
Danny Cole, national sales manager at Flex-R, explained why the company created this new CPD. He said: "At Flex-R we have a lot of experience in roofing projects and realised that specifiers are increasingly looking for the latest information on refurbishment. We wanted to inform them on the correct steps needed to reach a successful outcome."
From 1 September, 2020, Flex-R will be running the CPD through a continuous programme of free online seminars. Held every Tuesday starting at 1:30pm, the CPD will run for an hour including a Q&A session. The CPD qualifies for double points.
For more information and how to book contact Fran Makinson on 01494 448792 or via email at webinars@flex-r.co.uk.