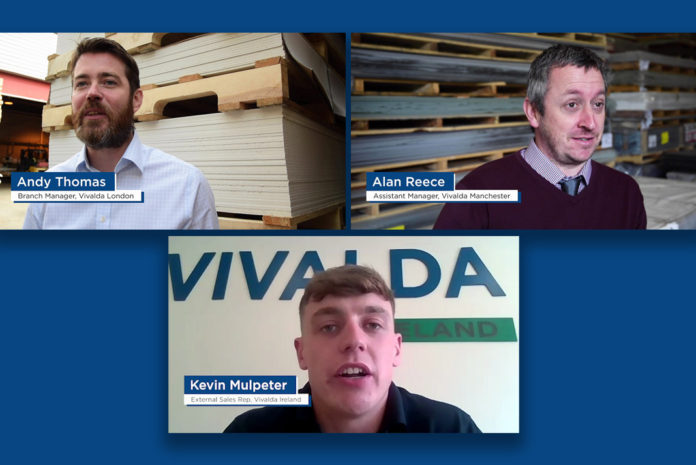 Vivalda Group has released a series of five short videos which provide a snapshot of the industry in the wake of the COVID-19 outbreak.
Comprising 'talking heads' style comment from managers based in Dublin, Glasgow, Manchester, London and Birmingham, the films provide a timely insight into the impact the virus has had on the construction sector.
Bucking the trend seen in many other sectors of construction, all Vivalda Group branches reported a significant uplift in sales of high-performance cladding as soon as lockdown was lifted.
Alan Reece, assistant manager from Vivalda Manchester, said: "Demand has gone up considerably. In July we saw output rise by around 40% compared to the same time last year."
Andy Thomas, branch manager in London, added: "Things have been different since lockdown. We've seen a real boom in smaller domestic projects, which has probably been driven by people with more time on their hands. While we undertake major commercial work, these home improvement projects are sometimes more interesting. It's opened up a new revenue stream for us."
While work in Scotland was slower to restart, due to different rules north of the border, MSP (which Vivalda Group acquired last year) is now back up to full speed.
Gillian Thomson, branch manager, said: "We're doing a lot of projects in England to replace unsafe ACM with our non-combustible A1 panels. Looking ahead, while we're delighted that the government has provided £1.6 billion funding to replace faulty cladding, the problem lies with who does the work. There are lots of people that could do the work, but there are only a few real experts with a proven track record. We need to be careful to ensure the right people are doing this vital work." 
The video series also contains a selection of recent projects each Vivalda branch has completed, which demonstrates the sheer versatility of innovative cladding, as well as the value of the more consultative approach provided by the business.
Video links:
Direct YouTube feed: