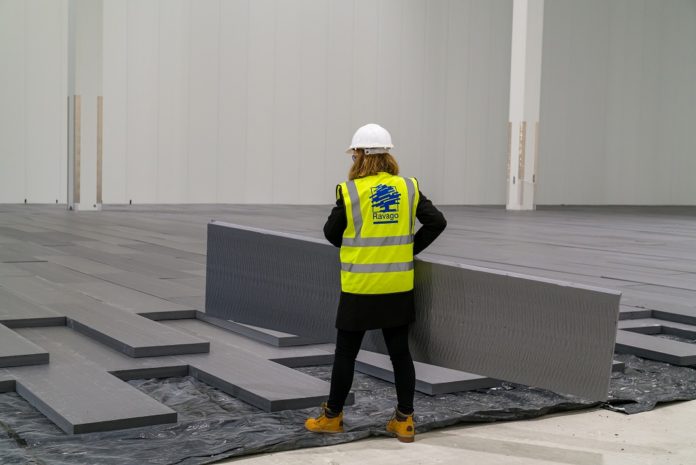 With so many types of insulation on the market, not all of them are suitable for every part of the building. Here, Joan Ferrer, technical sales manager at Ravago Building Solutions, discusses what to consider when selecting the right insulation.
When thinking about making a building more thermally efficient, the first thing to consider is the performance of the building envelope. If we ensure that the walls, roof and floor are insulated properly, the whole building will act as a closed box, preventing the intrusion of hot or cold air. This means the heating or air conditioning can be used to keep ourselves comfortable without incurring massive bills.
There are many insulation materials on the market but not all of them are suitable for every part of the building. For the floor in particular, where a vital function is to support the loads placed on it during the life of the building, the material's compressive strength and its water absorption characteristics are the most important.
With some types of building, loadings are easy to predict and unlikely to increase with time. However, some others, especially industrial buildings, can see the required floor strength increase due to a change of occupancy or developments in production.
Any material will compress when a load is placed on it. Therefore, when selecting insulation, we need to take into account compression of the floor and whether it is caused by static point loads (such as a rack of shelves in a warehouse) or dynamic loads (such as a forklift or truck entering the warehouse).
Extruded Polystyrene (XPS) insulation boards can offer excellent compressive strength with products available to cater for a wide variety of load types. Due to the board's closed-cell structure, they also offer excellent thermal performance compared to open-cell EPS, which is vulnerable to frost.
The residential market will typically require boards capable of sustaining loads of up to 200 kPa. Equipped with a butt edge finish, these can be installed below the slab or below the floor screed, as well as in beam and block floors.
300 kPa boards are probably the most versatile, suitable for most residential and commercial buildings. Because they are suited for many applications, manufacturers offer 300 kPa boards in a range of thicknesses to meet the desired performance.
For example, Ravago Building Solutions offers Ravatherm XPS X 300 SB in thicknesses from 30mm to 125mm, with a BRE Green Guide rating of 'A'.
When constructing a car park deck or cold store, it is necessary to consider products with a compressive strength of 500 kPa and the ability to manage dynamic loads caused by constantly flowing traffic. The selection of boards with a ship-lap edge finish means they will have an overlap and minimise any gaps.
Exceptionally heavy loads like those caused by large aircraft in hangars will require a heavy-duty product. A board with compressive strength of 700 kPa and dynamic load strength of 250 kPa, like Ravatherm XPS X 700 SL, can withstand as much as 25 To/m2 of continuous load with just 2% of thickness reduction in 50 years.
U-value calculations in floors
When it comes to the U-value calculation for a floor, the most important measure to consider is the P/A ratio. This is an expression of the floor size and shape, where the P stands for the exposed perimeter and the A for the floor area of the heated spaces. Most of the heat loss from a floor occurs around the perimeter and on large floors with low P/A ratio, only perimeter insulation may be necessary to achieve the desired U-value.
Other aspects which will affect the U-value calculation are the ground conditions, e.g. clay, sand/silt and rock, as these have a different thermal resistance. The wall thickness will affect the U-value calculation as well.
Certificates from the British Board of Agrément assure end-users of performance on the condition that correct installation procedures are followed. Purchasers of products with a BBA certificate, like Ravatherm XPS X 300 SB, can have confidence in their specification and that the performance models will be realised.
Ravago Building Solutions is one of Europe's largest producers of XPS insulation. Ravatherm XPS X high-performance XPS boards are available in a range of compressive strengths from 200 kPa to 700 kPa with low water absorption (0.7% by volume) and a declared lambda as low as 0.030 W/mk.
Ravago Building Solutions UK offers a free U-value calculation service at: https://ravagobuildingsolutions.com/uk/en/u-value-calculation-request/. All Ravatherm XPS X is manufactured in King's Lynn, Norfolk, under EN 13184 (CE marking according to Construction Products Regulation) and Ravago Building Solutions UK holds both ISO 9001:2015 and ISO 14001:2015 Certifications. The Ravatherm XPS X flooring range uses a blowing agent with zero ODP and a GWP of less than five.