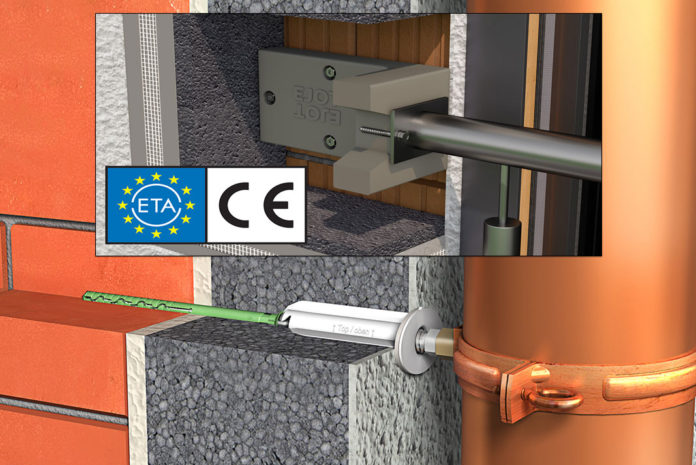 In this article, Mark Newell, sales engineer for ETICS fastening products at EJOT UK, discusses attaching external elements to walls that have been treated with external wall insulation systems
External wall insulation (EWI) systems – also known as external thermally insulating composite systems (ETICS) – have become a popular refurbishment option as clients seek to upgrade the energy performance of properties.
Indeed, if the UK is to meet its goal of achieving 'net zero' greenhouse gases by 2050, the role these systems play will become even more significant.
That is why PAS 2035: 2019 is so important. It supports the drive to improve energy efficiency and the Near Zero Energy Buildings (NZEBs) target, in-line with EU objectives, by championing technically sound and responsible domestic retrofit work.
Importantly, it provides a specification for the energy retrofit of domestic buildings, detailing best practice that TrustMark holders must comply with, including for EWI applications.
In order to ensure that EWI or ETICS systems deliver on their intended performance promise and maintain long-term integrity, careful consideration must be given to the way external elements are attached. If not, something as simple as attaching a downpipe bracket has the potential to cause significant problems down the line for the EWI system that could require costly remedial work.
Understanding load bearing capability and cold bridging
In a typical EWI system, the insulation is attached securely to the wall, treated with coatings and mesh, and finished in the chosen render, brick-slips, or other external treatment. The EWI system's main depth is the insulation material, and whilst this will be securely fixed to the building substrate, it will not have the structural strength to accommodate load bearing attachments over 5kg per fixing point, such as those required for Juliet balconies, canopies or railings.
Any attempt to achieve a secure fix by driving through to the original building substrate could compromise the thermal insulation level. Unless a fixing is used that incorporates insulating materials as part of its design, the thermal barrier will be broken, and cold bridging will result.
This would mean a failure to comply with one of the criteria of PAS 2035, where a design needs to demonstrate that any cold bridging effects are designed out of the chosen energy efficiency measure.
Why EJOT's engineered fastening elements hold the key
Where a medium to heavy element will feature as part of the newly insulated façade, best practice is to plan for the location of the attachment as the EWI is constructed. For example, when planning for a window which has a Juliet balcony, EJOT'S ETA-approved Iso-Corner installation angle can be used to allow for a secure attachment back to the original building substrate.
Iso-Corner is moulded from high density polyurethane foam and can be easily cut on-site with an electric saw to sit flush with the external insulation face. Its combination of structural strength and adaptability provides a dependable supporting bracket option offering a cantilever arm length of between 80mm and 300mm.
It is, however, simply not possible to predict the fixing locations of every external element, such as house numbers and letterboxes. The ideal solution for these would be the EJOT Iso-Spiral Anchor, a spiral-shaped plastic assembly anchor complete with sealing washer and integrated threaded sleeve. It provides a dependable fixing solution for fixing points up to a 5kg load in walls insulated with foam-type insulation, such as polystyrene or polyurethane, which do not require attachment into the building substrate.
Light-to-medium weight mounted elements, such as downpipe brackets and exterior lights, however, do still need securing to the building substrate. This can be achieved, for elements up to 15kg per fixing point, with the EJOT Iso-Dart – a façade anchor with plastic installation bush, complete with sealing washer, which accepts common coarse threaded screws for securely attaching elements.
Its design ensures that a thermal decoupling is achieved to minimise thermal transmission between the building substrate and the attached element.
The potential that EWI and ETICS offer for enhancing the energy performance of UK properties is huge, but we cannot allow compromising factors like attaching external elements to undermine the goals of clients. To help avoid the pitfalls, EJOT provides a wide variety of fastening systems support and guidance, with extensive help available online in the form of technical brochures, datasheets, video installation clips and more, as well as direct from its UK team.