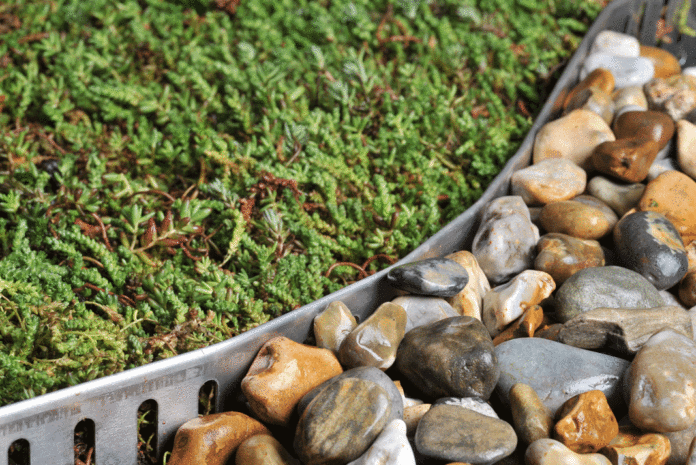 With the spotlight on building fire safety, Mark Harris, chairman of the UK Green Roof Organisation (GRO) and Jonathan Brown, Fixfast's living roofs expert, explains what architects and contractors need to know to design and install safe living roofs
Living roofs are becoming the jewel in the crown of sustainable development. Installations are on the rise (the market grew by 17.1% last year) as their many benefits are recognised by architects, developers and planners. The construction industry, as well as the environment, is set to reap the rewards.
But while the sector can celebrate this new opportunity, we must all take steps to ensure that standards are maintained in terms of Building Regulations and industry best practice for living roofs. Nowhere is this more important than in fire performance.
The Grenfell Tower fire shone a spotlight on building fire protection. As we've seen, the consequences of inadequate fire engineering can be horrific. Even if a fire does not occur, inspections can be mandated at any time in the building lifecycle, and enforcement action taken as a result. Penalties include huge fines stretching into the hundreds of thousands of pounds for occupiers, a burden that can be passed on to contractors and architects where a breach of contract or negligence can be established.
So, there's a compelling case to get up-to-speed with the regulations as they apply to living roofs. But we should not let legislation alone be the reason for change. We have an opportunity to make fire safety systemic, and we should embrace it.
The good news is that there are simple measures that owners, architects and contractors can take to ensure fire safety. These involve considering the engineering of a living roof – the systems and components that underpin its primary function. By making informed decisions on this engineering, it is possible to create living roofs that remain fire safe from the day they're designed, through construction, to the end of the building's lifecycle.
Fire breaks
A living roof should include fire breaks at the perimeter of the living matter, including around openable roof lights, windows and doors. These should be 500mm wide and 50mm deep. On larger roofs, 1m fire breaks should be included at 40m intervals across the roof. The fire break should consist of paving slabs or bonded gravel 20mm to 40mm in diameter.
The integrity of this break must be preserved. Breaches may occur where organic matter encroaches upon the fire break, or where edges are not maintained. A physical barrier between the vegetation and fire break can prevent this and reduce maintenance intervals.
Substrate compliance
A correctly engineered living roof decreases the risk of fire on premises because it absorbs and stores water – so long as the substrate meets certain criteria. For a living roof to be Building Regulations compliant, a minimum substrate depth of 80mm is required – consisting of 80% inorganic minerals such as sand, ceramics or pumice. Peat should not be used as a substrate material due to its combustibility.
If this substrate erodes below 80mm, the roof may be in breach of the regulations. Just as erosion occurs in the natural world, it is almost unavoidable on our man-made constructions. However, it can be minimised through regular maintenance and by deploying an effective retention system – products that maintain the integrity of the living roof.
Plant choice
Fire safety should be a factor in deciding which plants to use atop a living roof. Certain plants contain high levels of oils or resins which could provide fuel for a fire. These plants should be avoided. Equally, designers should forgo plants which easily dry out at certain times of the year, such as grasses and mosses. High water content plants such as sedums are recommended to reduce the risk as much as possible, with adequate irrigation provided during the establishment period and dry spells.
Regular inspection (with easy access to the roof and infrastructure to make this possible) should be a high priority to ensure all fireproofing measures are not compromised.
Component choice
A livings roof's waterproof membrane should be certified as appropriate for the project by an independent third-party such as the BBA, BRA or Warringtonfire Gent. Waterproofing systems deemed 'unrestricted', with a rating of either AA AB or AC, are suitable for use on any part of the roof. Systems with a 'restricted' rating are only appropriate on certain projects.
For other parts of the living roof system, combustible materials should be avoided where possible. Plastics are safe as long as the roof is engineered to accommodate them, but metal alternatives for most products are available, and these tend to offer just as much design flexibility, as well as providing enhanced performance in most areas.
Easy but vital
These recommendations are not overly encumbering on a living roof owner, installer or designer. They are simple, easy to adhere to, yet vital for ensuring that the industry is creating fire-safe buildings. By adopting best practice, you can serve the growing living roof market confident in the knowledge that you are creating safe, energy efficient and long-lasting living roofs.
www.fixfast.com / www.livingroofs.org
This article appeared within the Green Roofs section in the August issue of RCI on page 80.