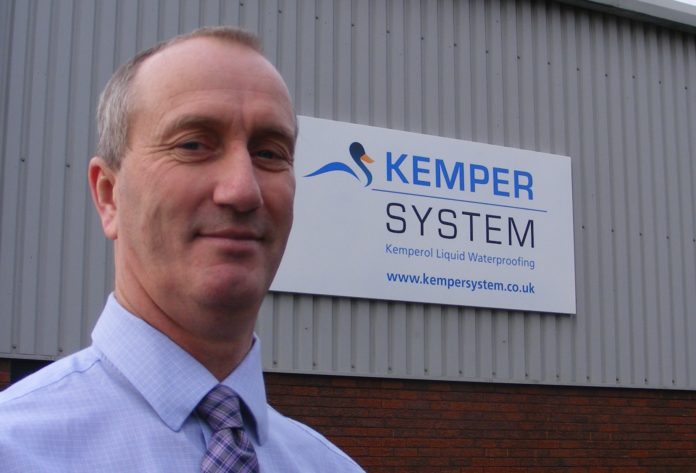 In this article, Steve Henderson, technical manager at Kemper System, offers RCI readers advice on how to maximise budgets, whilst ensuring a sound liquid waterproofing specification
With the effects of COVID-19 pulling at the purse strings across the entire industry, maximising budgets has never been more important. However, it is crucial for specifiers and contractors alike to continue to work with trusted liquid manufacturers that offer not only certified systems but provide technical support and advice pre-installation to verify the chosen system.
There is a huge range of liquid roofing and waterproofing products now available, and although many may look the same, they are not. During the design stage, even if budgets are tight, it is vital that contractors work closely with both their clients and liquid manufacturers to ensure the most appropriate product is specified.
Addressing compatibility issues during specification, as well as post installation, will ultimately save on cost and time in the long-term, and will result in a better outcome for all those involved.
Understanding the client's needs
Contractors may have used a particular type of liquid many times before, but it's not to say it's the right solution for every project. Take the time to listen to the exact needs of the client and ask lots of questions from the outset, so everyone within the chain fully understands the priorities and expectations.
Although this will require a larger investment at the beginning of the project, it will help to streamline the process further down the line, avoiding the need for additional questions from the manufacturer.
Be thorough
When gathering information on a new project, it's important not to be tempted to cut corners, especially for refurbishment work. Being thorough is key and establishing exactly what is required from the liquid in terms of performance and characteristics.
It's also advisable to consider the wider elements that may have an impact on specification, such as the location of the site, height of the building, and how much detailing there is on the roof, including what material any outlets are made from.
The condition of the substrate is another important factor which should be thoroughly assessed, and contractors are advised to take samples of what is under the existing system before approaching a liquid manufacturer.
Once armed with detailed project information, it's vital this is passed onto the liquid manufacturer as the more information they have, the easier and quicker it is to recommend a product that will meet the needs of all parties and perform to the required standard.
Avoid substitution
Following the Grenfell Tower tragedy in 2017, Dame Judith Hackitt recommends in her final report that the construction sector must think of buildings as 'systems'. This requires a focus on how individual elements in systems such as roofs, floors and walls interact with each other.
The recommendations have also led to recent amendments to building regulations, including those covering fire safety within and around buildings – Approved Document B.
As a result, liquids should also be tested as systems with all elements of a roof build up, including the vapour barrier, insulation and liquid waterproofing, assessed as a whole and not individually.
This means that it is more important than ever before to follow the manufacturer's advice and avoid substituting individual elements in the roof build-up. Although it can be tempting to switch one component to save costs, this risks failure to comply with building regulations, health and safety issues and a sub-standard roof.
Third-party accreditations
Checking third party accreditations, such as a BBA certification, is strongly advised. The certificate will list different factors that demonstrate how the product complies with UK building regulations, as mentioned above, so will help to confirm if a liquid product is fit for purpose.
However, it is important to read the details carefully to establish how the product has been tested and what exactly, is covered by the certificate. If in any doubt, contact the manufacturer for technical advice and support.
A trusted manufacturer
Working with a trusted liquid waterproofing manufacturer that offers the technical support and guidance pre and post installation is also key to the success of the project. Product quality alone is not enough to ensure optimum results, and Kemper System for example, can offer technical advice from experienced technicians from start to finish.
Advice, training and service are key components to Kemper System's approach, and on projects requiring a specification issued by us, we recommend the solutions specified are only installed by trained, independent contractors, whose operatives have completed specific product training. This means the quality and performance of the waterproofing system is backed by a range of Kemper System material warranties of up to 20 years.