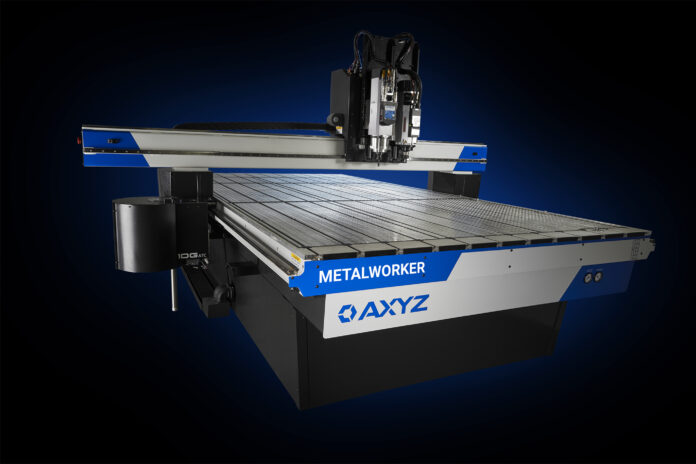 In keeping with its known predilection for supplying purpose-built and industry-specific CNC machining solutions, AAG has now added the latest AXYZ METALWORKER routing/cutting system to its burgeoning range of bespoke machine options.
From the ground up, the METALWORKER has been designed to process small- to high-volume sheets of non-ferrous metals, aluminium, metal and aluminium composites (MCM/ACM) and alloys such as copper, zinc, brass and bronze using a range of special-purpose production tools.
The METALWORER is available in a choice of nine different-sized models, the most popular of which include the 1.5m x 3m and 2.1m x 3m models, with other sizes available if required. The machines are powered by AAG's proprietary MOVE machine control software via a 22-inch multi-functional touchscreen control panel.
In addition to the now familiar single-piece solid steel frame construction designed to withstand the most vigorous machine operation likely to be encountered, coupled with a stress-relieved gantry to minimise vibration, standard design features of the AXYZ METALWORKER include direct-to-drive servomotors with built-in encoders, an aluminium T-Slot zoned vacuum deck for maximum material hold-down efficiency, a special tool length sensor to ensure consistent routed/cut depths and the latest AXYZ helical rack and pinion drive system. This latter feature incorporates a multi gear teeth configuration that helps spread the workload more evenly, leading to faster throughput speeds (up to 35m/min), radically reduced machine wear and material wastage and ultimately a longer than normal machine life.
These features are supplemented with other optional machine enhancements that include a variable-station Automatic Tool Change (ATC) system and a choice of five, 10 and 15hp routing spindles and ISO30 and HSK-type tool holders.