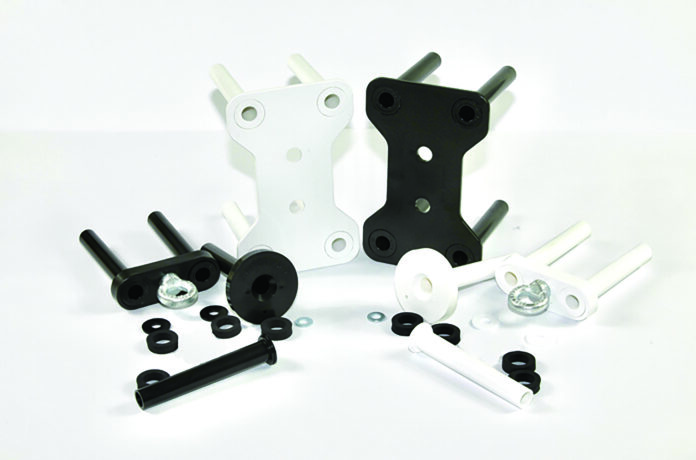 Swifix Fixings has received the Innovation Award at the recent Insulated Cladding & Render Association (INCA) Awards. The Awards celebrate excellence and innovation in external wall insulation (EWI) and this year were also celebrating the 40th Anniversary of the association.
Swifix fixings have been designed and developed specifically for refitting and installing both lightweight and heavy items through EWI systems. The fixings can be used during or after the EWI system installation, providing a cost effective and maintenance-free solution, whilst also ensuring the integrity and protection of the EWI system. Fully tested and recommended by numerous EWI system providers and installers, the fixings are manufactured from high quality recycled plastic and provide an aesthetically pleasing appearance to enhance newly installed EWI.
In this category, the judges acknowledged that innovation in fixtures and fittings is essential and were impressed by the range of fixings, universally available, to suit the many different types of EWI systems and finishes. The fixings were seen as an excellent alternative to timber pattresses which not only contribute to thermal bridging but also can disturb the 'continuity of insulation' characteristics of EWI systems. The judges were also impressed by this company's ability to identify a gap in the market and successfully develop a solution to ensure the integrity and protection of EWI systems.
Paul Brown, managing director and founder of Swifix, commented: "We are absolutely delighted to have been recognised by INCA with thus awarded for the design and development of our innovative range of fixings. I have worked in the broader EWI industry for over 30 years and identified the issue with current practices so decided to produce a cost-effective solution which maintains the integrity of the EWI system."
There are five basic fixings, and the versatile range can be used to install a variety of items and is compatible with any finish such as brick slip, render and spar dash as well as installed with any thickness of system. All products are manufactured in black and white as standard; however bespoke finishes are available to compliment the finished render. Fixings are available direct from SWIFIX Ltd via its online store and from various distributors and builders' merchants throughout the UK, with design and technical guidance available.