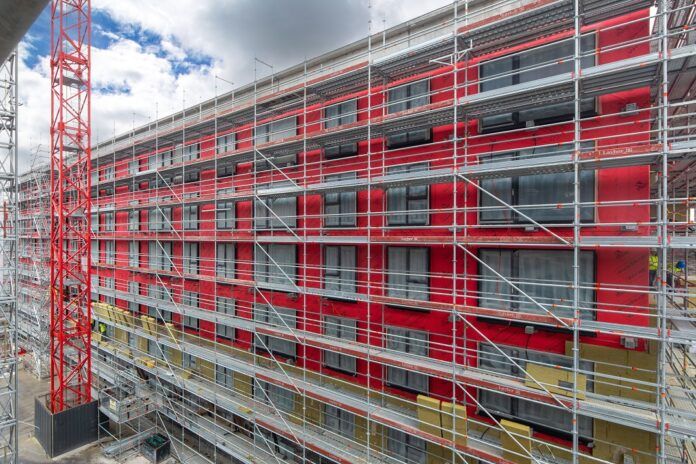 The superior airtightness and water resistance protection benefits of the Wraptite® external air barrier system from the A. Proctor Group is a key feature of an exciting new development at City West, Dublin, Ireland.
The project development on behalf of Cairn Homes consists of over 400 residential units within nine apartment buildings ranging in height from one to nine storeys. The new homes form part of a wider mixed-use development, including retail, commercial, office units, residential amenity space, and open spaces along with services provisions to facilitate the development, including parking.
The project's design was created by award-winning practice Reddy Architecture + Urbanism, and Platt & Reilly, one of the UK's and Ireland's leading partition and ceiling contractors, installed the Wraptite system.
The Wraptite System is installed as an external air barrier and alternative to a traditional standard breather membrane. Wraptite is the only self-adhering vapour-permeable air barrier certified by the BBA and combines the essential properties of vapour permeability and airtightness in one self-adhering membrane. The self-adhered nature of Wraptite and its high level of water resistance and simplified detailing made it an ideal choice.
Sean Noone, Construction Director at Platt & Reilly, explained, "Wraptite was chosen because the self-adhered nature of the product allows a simple and fast installation process. It also has excellent weather protection and water-tightness properties. Wraptite also offers a secondary weather protection when installed and seals the envelope of the building while other façade works are ongoing."
"We have used Wraptite on many projects, and it has always performed exceptionally well. It is simple to install and easy to work with. The membrane can be installed with speed and efficiency directly to large-scale walls and openings where certain details are required. It has very good adhesion to most surfaces and works well creating a bond with other products when required at window openings."
Wraptite is designed as an effective vapour-permeable air barrier to maximise the energy efficiency of buildings, combining the critical properties of vapour permeability and airtightness in one self-adhering membrane.
There are significant benefits to incorporating the Wraptite System within the façade design. Wraptite helps ensure "as-designed" performance, narrowing the gap between asdesigned and actual energy performance and reducing the likelihood of potential failures to meet required airtightness levels. The Wraptite self-adhesive breather membrane is applied externally quickly and efficiently as part of the cladding system. Traditional internal air barriers must accommodate building services such as electrical, lighting, heating, and drainage systems, which can involve complicated detailing to ensure the airtightness is not compromised.
This can then increase the gap between as designed and built. Wraptite is Class B1-s1,d0, compliant with Part B regulation changes and is suitable for use in relevant buildings and those over 11m/18m, both as a continuous layer on sheathing board, behind fire-classified insulation, and for use to tape joints in insulation behind rainscreen.