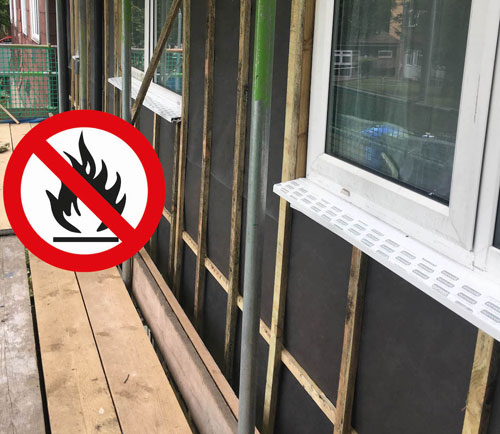 Powerlon FlameOutTM is a new house wrap breather membrane that is flame retardant to Class B for all timber wall installations. FlameOut has been developed by Industrial Textiles & Plastics (ITP), industry leaders in flame retardant technology, and joins the Powerlon range of technologically advanced building and roofing membranes.
The new building membrane is strong but lightweight, with high water vapour permeability, and is the only product to be independently certified to EN ISO 11925-2 as Class B-s1,d0 for use in all timber frame constructions with no installation restrictions. A self-extinguishing FR material, FlameOut is available in two roll sizes: 1.5 x 50m and 3 x 50m, providing installation advantages for builders. It will be particularly valuable for use in safety critical buildings, both residential and commercial.
Marc van der Voort, managing director of ITP, said: "Our 25-year expertise in developing flame retardant products for the construction industry went into the creation Powerlon FlameOut. "We're proud to offer this new product which will increase building safety for our customers in the UK and abroad."
Other Powerlon flame retardant building membranes from ITP include Powerlon UV Colour FR, which is flame retardant to Class 0/Euroclass B. This UV-resistant façade membrane has been specified for a number of projects, including RIBA-award-winning The Word in South Shields, the Glasgow School of Art and the Canada Water Library, another RIBA-award-winning public building. The breather membrane comes in a range of attractive colours and is designed for use behind open or closed ventilated rainscreens and façades.
The ITP technical team is available for site-specific installation advice and offers a concise technical briefing on flame retardant standards and testing procedures for building membranes.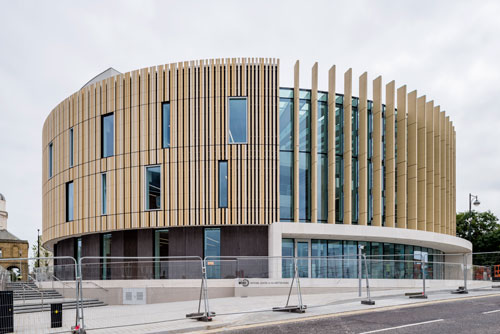 In addition to a large range of roof and building membranes, ITP also produces the Powerclad range of weather protection and containment sheeting and the Powerbase range of ground and gas barrier membranes, hydrocarbon and VOC barriers.