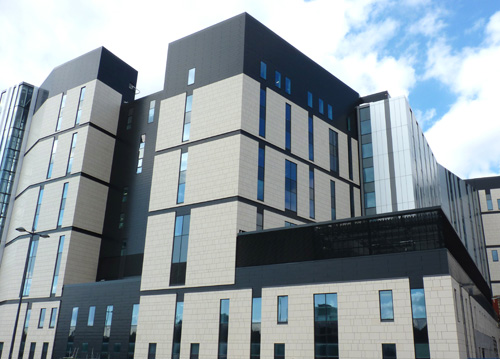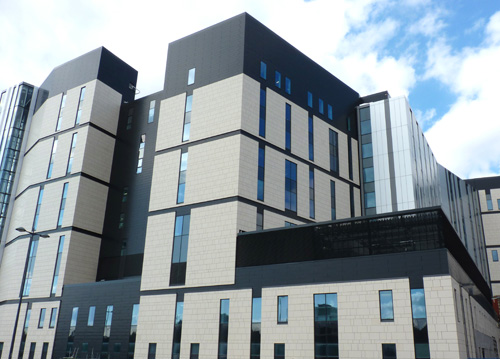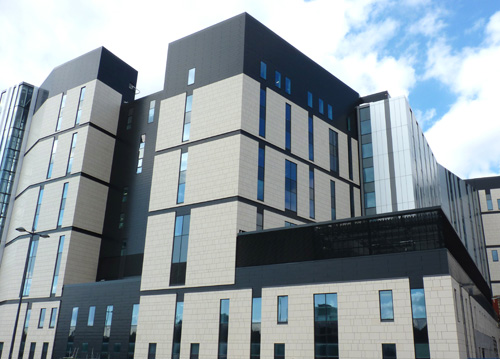 More than 34,000 individual SureClad façade panels prefabricated by façade system specialist, Shackerley, were successfully installed at the £335 million Royal Liverpool Hospital, creating a prestige aesthetic and robust external envelope solution for the high-profile PFI scheme.
Due to open to its first patients in 2018, the new 646-bed facility will replace the existing Royal Liverpool Hospital and form the centrepiece of the proposed Liverpool BioCampus; a pivotal development for the North West and a key element in the regeneration of Liverpool's 'Knowledge Quarter'.
Specified with ceramic granite in a honed 'travertine' finish, to contrast with the curtain walling of the new hospital's central tower, the SureClad ventilated façade system not only answers the contemporary aesthetic and performance requirements of the project, but also references the traditional Portland Stone prevalent in Liverpool.
One of the most complex cladding projects ever delivered by Shackerley, the Royal Liverpool University Hospital development has involved specialist prefabrication of 8,282m² of SureClad ceramic granite façade to deliver a bespoke modular design comprising 14 different panel formats.
Shackerley prefabricated all 34,000 SureClad ceramic granite panels at the company's ISO9001-accredited production plant in Lancashire, drilling each panel using Shackerley-designed and built CNC precision undercut drilling machinery and securing 'invisible' SureClad Access System fixing straps to the rear, using a patented undercut anchorage system. The company also helped to speed up and simplify the installation of the façades by pre-fabricating more than 8,000 bracketed corner sections, returns and reveals as single-piece, installation-ready units. In total, some 150,000 individual stainless steel undercut anchors were used to attach almost 51,000 SureClad Access System straps and 16,500 brackets to the panels.
Brian G Newell, chairman of Shackerley, commented: "The Royal Liverpool Hospital is a huge project for Liverpool and one of the most prestigious hospital schemes we have ever supplied. Our UK-based production facility, with its array of specialist cutting and drilling equipment and experienced operatives, together with our 'can-do' approach to accommodating the needs of complex production programmes meant that we were very well able to meet timed delivery requirements on time, every time, to the highest quality standards.
"The result is a robust and attractive façade that will stand the test of time and provide a fantastic first impression for visitors to the hospital, the Knowledge Quarter and the city of Liverpool."